Started a new section! The column, The Shanghai study-abroad Journal, will tell you the local lifestyle and apple affairs.
---
No.3 A Student Life, This and That

The midterm exams are over at the language school now. Unfortunately, I was in bad condition during the test period. That was when I first got homesick. I missed my mother so bad. Of course it's over now and I'm doing well.
I take language lessons in the mornings on weekdays. The number of students for this semester, from September to January, is about 600 and about 10% of them are Japanese. There are full-time students, housewives, and business persons, both married and single. There are 32 students in my class, a bigger number compared to others. Half of them consist of Italians and Koreans. Only Chinese is used for reading, listening comprehension, and discussions. I keenly feel the need to know about my own country as I interact with foreigners. I have been encouraged to deepen mutual understanding in such an international class, stimulated by peers who have a thirst for knowledge.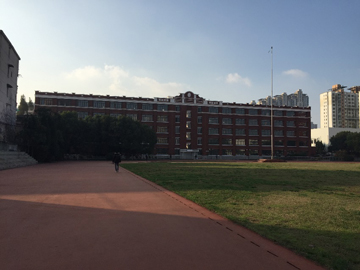 ▲The language school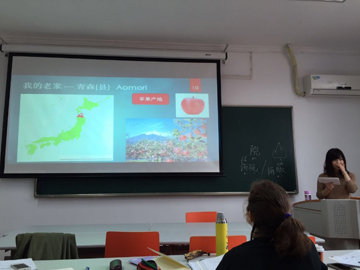 ▲A classroom scene
In the afternoon, we take elective subjects (Chinese pronunciation and recitation, Niko, a Chinese musical instrument, paper cutouts), or club activities including Tai Chi Chuan and multi-language communication. Also, they offer curriculums of traditional Chinese culture and Chinese language lessons to further improve skills. I have tried Tai Chi to experience an aspect of the culture. It is one of China's martial sports, which has many schools. It helps to strengthen the muscles of the lower limbs to thus avoid injuries, backaches and stiff shoulders. We move our bodies very slowly along with deep breaths. It looks easy, but it is actually very intense and I felt unexpectedly exhausted when I practiced it. "Chi", a spirit, seemed to circulate my whole body, warming me to the bone and giving me the feeling of a lighter body weight. There are many people who practice Tai Chi or exercise in the morning. It shows that they are health conscious people. I want to master it while I'm here because it's easy to do by myself, but it's a pity that I can hardly arrange the time to meet the lesson group.

There are a few student dining halls and prices differ depending on the place. The prices range from 100yen for a meal (a bowl of rice and two side dishes.) The reason for the low price is government subsidies together with cheap grocery costs.

The local residents use the dining halls for purchasing steamed buns and steamed buns with meat filling to eat at home or dine there. The staple diet of China is classified into two categories: where the production of wheat and corn is large, namely the northern regions, people consume dishes like steamed buns, gyoza and noodles; and in the southern regions where indica rice production is thriving, rice and rice vermicelli noodles are consumed. Nowadays, however, we can eat almost anything anywhere.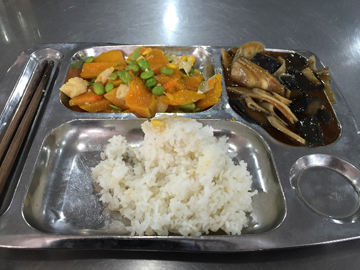 ▲A lunch menu at a student dining hall – 1
Stir-fried pumpkin and green soy beans, stewed eggplants and bamboo shoots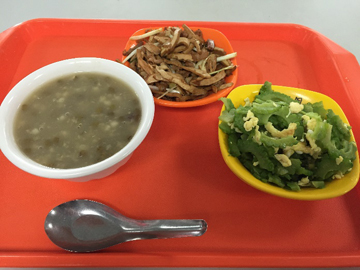 ▲A lunch menu at a student dining hall - 2
From left: Mung bean porridge, stir-fried tofu, stir-fried bitter gourd
Recently I found an interesting ear of corn. The word "corn" is written as "ball rice" in Chinese characters. The texture is just like cooked sticky rice. It differs widely from the corn I've known. I would describe it as a glutinous rice wrapped with a little thicker shell. I was convinced that it is "a balled rice grain". I wouldn't say that it's particularly delicious, but you can become captive of it once you bite into it.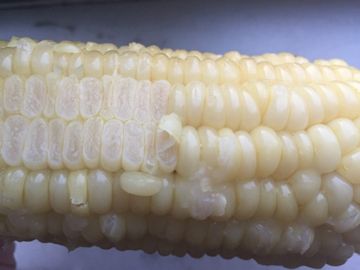 ▲Chinese corn
Tastes like sticky rice in a shell


The other day I went on a field trip organized by the school to visit Zhejiang province (Xihou, Shaoxing, and Ningbo). The province is located in the south of Shanghai and considered to be one of the most developed among the coastal provinces in China. Ningbo City especially boasts one of the world's leading harbor cities where commerce and industry are developed. On the other hand, the city is designated as one of the national historical and cultural cities of China. The interesting tourist spots, such as Luxun Home, East Lake, and Qiantong Ancient Town, attract us for their nostalgic scenes. Xuedou Mountain gives us a view like a landscape painting, with sweeping fogs and precipitous cliffs. We transferred buses to get there. They drove so fast descending the hills, it was like riding a roller coaster. The drive was so horrible that it put me in a cold sweat. Although I always admire the driving skills of Shanghai drivers, I'm astonished by their driving manners. I deeply wish that they'd learn proper traffic rules when I see incidents such as changing directions without using the indicator, honking all the time, and an ambulance stuck in an intersection. Traffic lights are commonly ignored. So watch out when crossing the road.
▲The 36 kilometer-long bridge between Jiaxing, in the suburbs of Shanghai, and Ningbo is considered the longest trans-oceanic bridge in the world.

| | | |
| --- | --- | --- |
| | | |
| ▲The view from Xuedou Mountain in Xihou | | ▲In Qiantong Ancient Town in Ningbou Doing the laundry |
By the way, many convenience stores I have seen in Shanghai have disappeared here. The only one I found carried only a few kinds of drinks, snacks and cigarettes. But I learned that Lawson Co. opened four stores last spring in Ningbo as the first foreign affiliated convenience store. A wave of convenience stores is approaching in regional cities that are being developed. Also, I've heard that an international flight between Aomori and Hangzho, the capital city of the province, will start service in January 2016. Many of my classmates have visited Hangzho and they all recommend that I go. It is 150 kilometers southwest of Shanghai, only about a one hour train ride. It is one of the more popular cities among us with the recent opening of an Aeon Mall.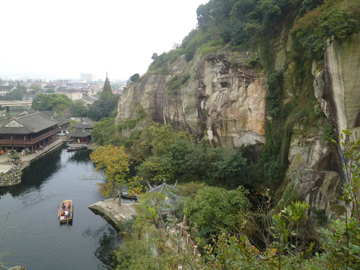 ▲Donghu in Shaoxing


I've had a hard time looking for apple sweets like pies. I finally found an apple tart at a cake shop which has nearly 50 branches and is long-loved by local people in Shanghai. The one I bought had some apple jam, very syrupy, inside. It was too sweet and didn't contain enough fruit, if I may offer a scathing criticism. I rather liked a walnut tart filled with a lot of nuts.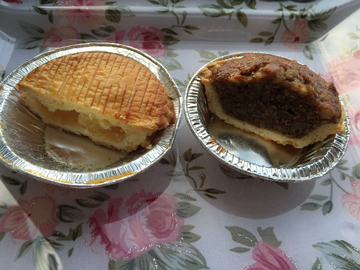 ▲Apple Tart (left) and Walnut Tart

Shanghai streets are getting in full Christmas mode. It doesn't seem to snow much in the city, but I wonder if it turns white at Christmas time. The year end is approaching. I wish you all a happy new year.

Profile of the writer:
Satomi Nakagawa
Currently a junior student at university. She belonged to the tennis club in junior high school and the Japanese Archery club in high school.
She decided to study abroad in one of the developing nations, including China, to learn about business including trading and sales. She was selected as one of the members of the joint public and private effort project, "TOBITATE (Leap for Tomorrow) Study Abroad Initiative" and is currently located in Shanghai. The first half of the term is spent learning the Chinese language and an internship at a Japanese-affiliated company will be added in the latter half.