Started a new section! The column, The Shanghai study-abroad Journal, will tell you the local lifestyle and apple affairs.
---
The last episode: Shanghai, the city that I love
The Lunar New Year has started and China is filled with the excitement of celebration. I recall the fact that I mistook the sound of firecrackers as a gunshot at the Anniversary of the Founding of PRC last September. From this year the city banned firing squibs and fireworks in the central part of the city in order to prevent a fire and to regulate air pollution. I received an e-mail notifying me of the law since I bought a cell-phone in China. During the Lunar New Year holidays, many provincial residents visit their homelands and most shops are closed. Surrounded by silence, there's little in the city to remind us of its regular prosperity. Nonetheless, the number of tourists to Shanghai was at a record high; it exceeded four million in seven days. The tourist spots must have been very crowded. By the way, the number of travelers to foreign countries was recorded at about six million people; the most popular destinations are Thailand, Japan and Korea, in order.
Speaking of which, they televised a musical show which was similar to that of a Japanese one on New Year's Eve. They have a feast on New Year's Eve and give pocket money to children as we do in Japan.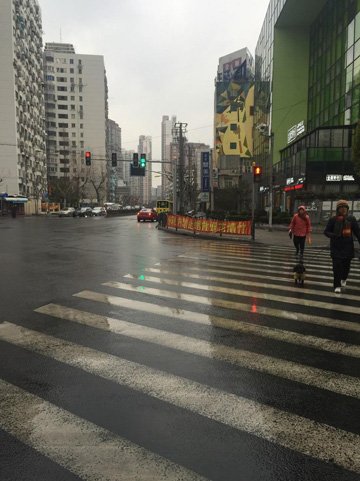 ▲A banner with a message to ban firecrackers is put up in the city.
As I explained above, people left in Shanghai are mostly Shanghainese after the provincial residents have gone. I frequently hear the Shanghainese language wherever I go on streets or on subways. There are mainly seven dialects in Chinese and the standard language is considered to be the Northern dialect. There exists a dialect called Shanghainese and it is extremely difficult to pronounce. For example, "Hello" in Chinese is "Nee-how," but "Non-haw" in Shanghainese. They even use different characters from the standard ones, and I heard that Shanghainese people learn the language from the sound. I don't understand it at all and I just give up when I'm spoken to. On the subway, announcements are made in both the standard Chinese and English, but on local buses Shanghainese is added. I know there is a vending machine which uses the Tsugaru dialect in Aomori, why don't we introduce Tsugaru dialect announcements in public transportation systems? Speaking of fixed-route buses, it is so inconvenient not to have timetables. In most cases there are bus services every 5 to 20 minutes on major streets. Sometimes there are back-to-back buses, but sometimes there is no sign of a bus coming after waiting for a long time. I get irritated when I'm in a hurry. But I enjoy being able to take a bus without being restricted by time or having to rush to catch it.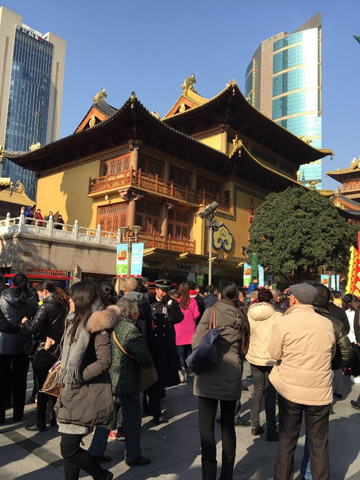 ▲The New Year's Scene: Visiting Jinan Temple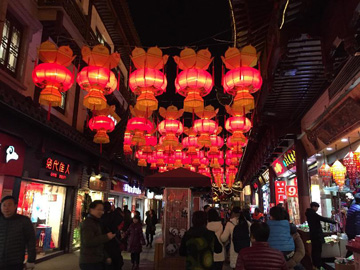 ▲The New Year's Scene: Yu Garden

When I see various kinds of tropical fruit at a department store, I unconsciously pick one up. There lie papayas, dragon fruit, durians, and sweetsops which were named after a Buddha's head because of the shape. They are also called sugar apples or genus Annona, originally from Central and South America, and I bought one produced in Taiwan. It is supposed to be very sweet and had the character of needing to ripen. Since I had no knowledge of it, it simply stayed in the fridge under-ripened and went to waste.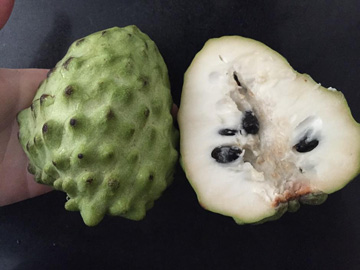 ▲Sweetsop, a cross-section on the right
Let me share an incident in the park on the way to a museum with my friends during a holiday. It caught our eyes that there were many lively umbrellas lined up. Each had a profile pasted on to search for a marriage partner for someone's child of marriageable age. For example, it said "a partner wanted, sex, age, height, place of birth, education, job and income." And it also stated some requirements for the partner, such as a good personality, nice looking, not overweight, having healthy parents, and so on. The one-child policy of the PRC has affected a greater number of men than women. The unbalanced genders and the decrease of the younger population have caused many problems. I believe the recent two-child policy, instead of one-child, made big news in Japan. At any rate, the marriage hunting scene was very unique.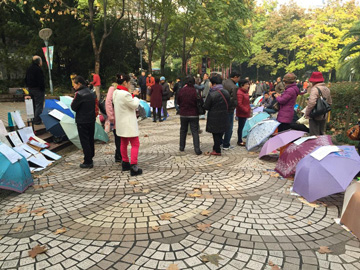 ▲Umbrellas displayed at both sides of the road

The return day to Japan is approaching and this is the last report.
Shanghai is an international city which comprises the east and the west, the old and the new, the sky scrapers and the traditional houses. As I share the same Asian look, I could easily adapt myself to the area. People often asked me for directions on the street. I enjoyed a convenient lifestyle offered by many Japanese supermarkets and restaurants. The longer I stay, the more the energetic and livable city attracts me. The only things that matter are the days of noxious air and the high prices. At some local stores they have student-friendly prices, but at clothing stores and restaurants I often find the prices are higher than those of Japan when I convert into yen. Some complain, "The prices are getting higher these days, but you receive higher salaries in Japan, don't you?" China is not the only case that shows economical distortion when society grows.
I've heard some bad news about China, which leads to a negative reputation. I'd rather try to understand this country using my own observational ability, not believe the reports exactly as they arepresented. Although it was a short-term stay here, I was glad to find many people who are interested in Japan, kind, and very friendly. Of course there may be a difference between age groups and areas, but, at least within my reach, there was no one who showed anti-Japan sentiment. I just hope to maintain the good relationship for both countries from now on.
I'm delighted to have met the energetic people at "the Association of People of Aomori" and the company where I received training. I was able to fully enjoy my Shanghai life thanks to those people. I cannot express my gratitude enough to the people who have supported me and kindly read my articles as well. Thank you very much.
I wish people in the world, including China, would eat Aomori apples more and more.

Profile of the writer:
Satomi Nakagawa
Currently a junior student at university. She belonged to the tennis club in junior high school and the Japanese Archery club in high school.
She decided to study abroad in one of the developing nations, including China, to learn about business including trading and sales. She was selected as one of the members of the joint public and private effort project, "TOBITATE (Leap for Tomorrow) Study Abroad Initiative" and is currently located in Shanghai. The first half of the term is spent learning the Chinese language and an internship at a Japanese-affiliated company will be added in the latter half.