We visited the growers to see the bagging of apples. After the sorting-out, they bag each fruit to protect them from diseases and pests, and to promote coloring and longer storage life as well.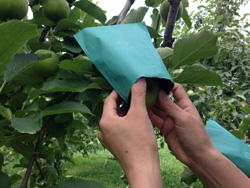 This bag contains various modifications, although it looks like a regular bag.
It has a slit to hook on the stem, and a wire is inserted to clip it onto the fruit. It is perforated for an easy removal.
The bagging is always done by hand, and a skilled worker can bag 1000 apples per day.
On the other hand, there are apples cultivated without bagging. They receive more sunshine to become sweeter apples, but they are lacking in color and storage life compared with the bagged ones.
For the features of bagged and un-bagged apples, click here.

Apple University is a virtual university where you can learn many things about apples in a fun way. ⇒ Click here to go to the site.