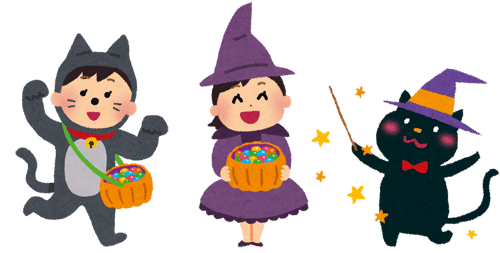 [Lanterns Made of Carved Apples]
Speaking of Halloween, people often think of popular Jack-O-Lanterns as a matter of course. We, Apple University, propose lanterns made of apples.
It is simple to engrave your favorite pattern on the surface. We would suggest applying lemon juice on the carved flesh to avoid discoloration of the fruit.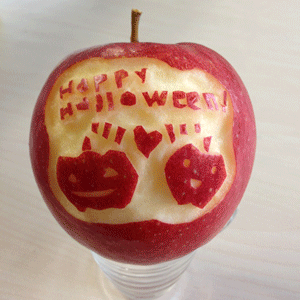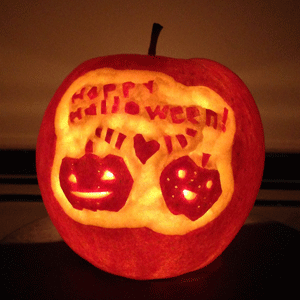 You can enjoy the art work as a decoration during the daytime. Let it turn into a lantern at night. Lastly make yourself a baked apple. Now you can appreciate three stages of enjoyment with just one apple.
Why not have fun with a different kind of "Apple Halloween" this year using Aomori apples?
[Cooking with Apples]
In Japan we have a set picture of Halloween pumpkin dishes. But in foreign countries where they harvest apples in this season, it is popular to appreciate apple dishes as well. They often make stewed apples and pies.
It is perfect to have such an event in Hirosaki, "The Apple Kingdom". Here is a recipe using the best seasonal fruit, apples, for Halloween.
Real Romanian Apple Pie Recipe
Ingredients to make a 30cm pie
Pastry
 500g Cake flour
 200g Bread flour
 250g Plain Yogurt
 300g Sugar
 250g Vegetable oil
 4 Eggs
 2 drops of vanilla essence
 2 drops of lemon essence
 10g Baking power
Filling
 5 Apples
 30g Butter
 100g Ground walnut
 50g Sugar
 10g Cinnamon
Others
 10g Butter
 Cake flour to dust the pie pan
 Powder sugar to dust the pie
Core the apples and slice into short and thin pieces with skins on. Soak in light salty water. Cut into small cubes, like chopped onions.

Melt butter in a pan and add apples, sugar ground walnuts and cinnamon. Cook until all water evaporates. Remove the pan from heat to cool.

Put all pastry ingredients in a bowl and mix well. Adjust the softness of the dough with the yogurt.

Butter the pie pan and dust with flour. Pour half of the pastry mixture into the pan and bake for 30 min. at 180 degree C.

Put the cooled "2" into "4" and spread evenly. Cover with the rest of the pastry mixture.

Bake at 200 degrees C for 10 min., reduce the heat to 180 degrees C and bake a further 20 to 30 min. Sprinkle with powder sugar and serve.

*It's customary to eat apple pie with ice cream in Romania.

Apple University is a virtual university where you can learn many things about apples in a fun way. ⇒ Home page is here