HOME - Learning
introduction of aomori
Aomori prefecture is the northernmost prefecture on Honshu and faces Hokkaido across the Tsugaru Strait, the Pacific ocean in the east and the Sea of Japan in the west. Surrounded by three seas therefore, it is blessed with plentiful seafood. Mountain products are also enjoyed due to the many mountains in the prefecture. The 'Shirakami-Sanchi' Shirakimi mountain range, which runs along the Akita-Aomori prefectural border, was listed as a World Heritage Site in 1993.
Beijing (China), New York (USA), Madrid (Spain) and Istanbul (Turkey) are located almost in the same latitude.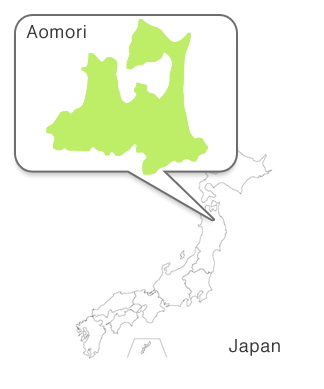 Area
9644.21km2
Number of Cities:10
Number of Towns:22
Number of Villages:8
Prefectural:Flower
Apple Blossom
Prefectural:Tree
Hiba (Thujopsis dolabrata)
Prefectural:Fish
Flatfish
Prefectural:Bird
Bewick's Swan
Had the highest production in Japan of:
Apples
493,200 tons (2008年)
Garlic
13,900 tons (2007年)
Burdock
42,000tons (2007年)
Japanese yam
72,400tons (2007年)
Red squid
13,400 tons (2008年)
| | |
| --- | --- |
| Natural Beech Forest | 12,627ha (Shirakami-Sanchi) |
| world's longest underwater tunnel | Seikan Tunnel (Length 53.85km) |
| Oldest cherry tree in Japan | Planted in 1882 in Hirosaki park |
| Oldest apple tree in Japan | Planted in 1878 in Tsugaru city |
| Major Mountains | Height |
| --- | --- |
| Mt.Iwaki | 1625m |
| Mt.Odake | 1584m |
| Mt.Takada Odake | 1552m |
| Mt.Kusigamine | 1516m |
| Mt.Mukaishirakamikake | 1250m |
| Major Rivers | Length |
| --- | --- |
| Mabuchi | 142.4km |
| Iwaki | 101.6km |
| Araida | 78.1km |
| Oirase | 70.7km |
| Takase | 63.7km |
| Major Lakes& Swamps | Area |
| --- | --- |
| Ogawarako | 62.16km2 |
| Towadako | 61.02km2 |
| Jusanko | 18.06km2 |
| Takahoko Swamp | 5.65km2 |
| Obuchi Swamp | 3.58km2 |
Features of Aomori Apples
Fifty percent of apples produced in Japan are from Aomori. Its crisp cool nights are perfect for apple growing. The growers' innovative challenges for improvement coupled with the pursuit of high quality apples have made it possible to produce super-delicious apples.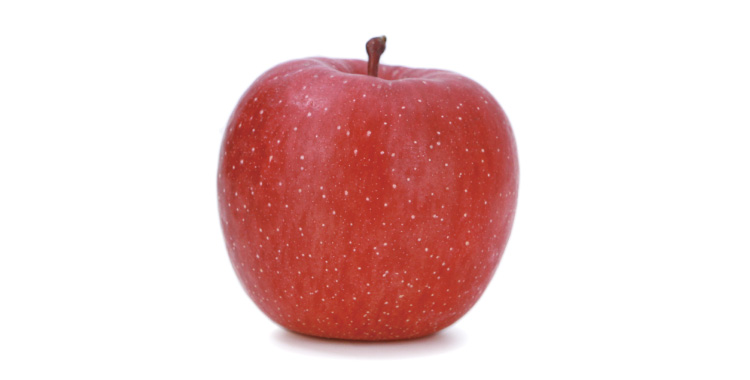 A perfect combination of rich soil and ideal climate along with high growing techniques brings us extremely fresh apples, including Fuji.
The disclosure of growing information and traceability are key components in food safety. We strive to deliver a safe and nutritious produce the tables of valued customers.
Sweet and Juicy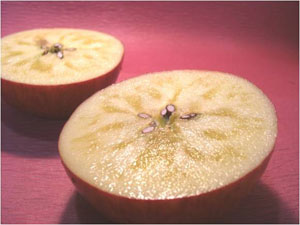 High in Sugar Content
Aomori's cool nights are perfect for apple growing. The temperature difference between the night and day varies so much that it makes autumn leaves and apple's brighter red. The sharper the drop of temperature, the sweeter the apples will be.
Crispness
The climate of Aomori is suitable for apple growing. The proper rainfall and the rich soil enables to ripen very juicy apples.
Apples grow by storing nutrition from daytime sunshine and at night they consume some of the saved nutrition. In Aomori, where the night temperature is lower than other districts, they need to use less nutrition. Thus storing more nutrition, they seem to contain more nutrition in fruits. This may lead to the firmness and long storage life of Aomori apples.
The four seasons and the climate of Aomori
We have very clear distinctive seasons
In winter the land is covered with snow mainly in the Tsugaru area and Mt. Hakkoda. In spring, almost all the plants and trees come into bud at once. Cherry and apple blossoms are in full bloom by May and they soon become thick with green leaves as summer approaches. In fall, warm days and cool nights create a sharp drop in temperature. The fall climate is one of the reasons for good Aomori apples.
Two different climates, the west, the Japan Sea side, and the east, the Pacific Ocean side
In winter we have snow on the west side of the prefecture because of high mountains blocking the moist air. In the east, it snows little but extremely cold weather is present throughout the winter. In summer it gets pretty hot in the west, but the moist and cold Okhotsk Sea air mass called "Yamase" frequently causes a lack of sunshine and low temperatures.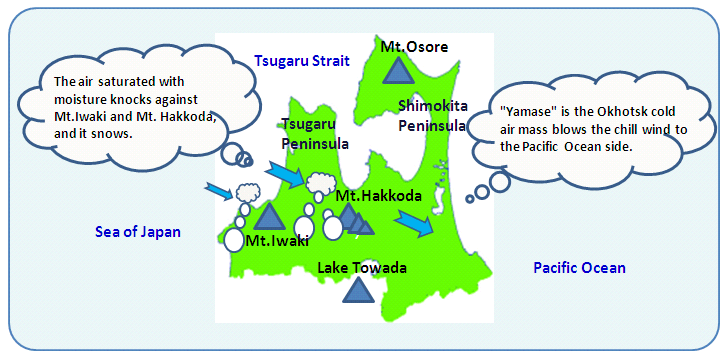 process of apple cultivation
1.Pruning
(January to March)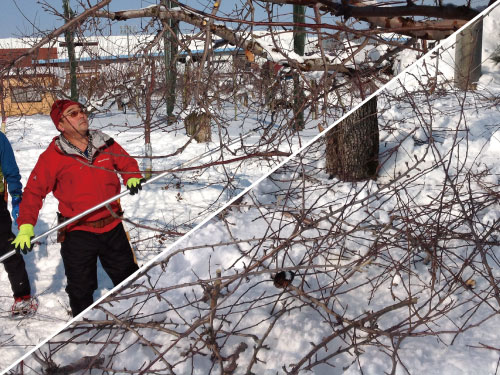 Pruning goes on throughout the winter and early spring, as workers thin out branches to allow maximum sunlight into the trees.
2.Pollination
(May~)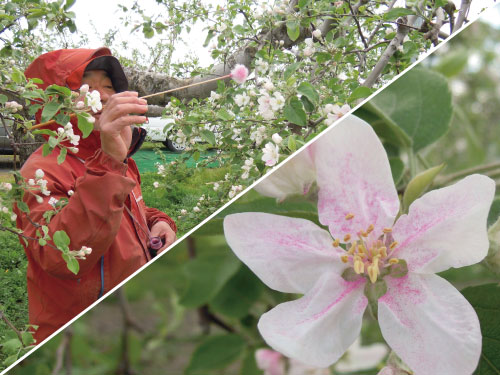 All varieties of apple trees require some cross-pollination for fruit to grow. For a flower to develop into an apple, the pollen produced by one flower must be transferred to another flower. Since pollination by hand takes time and labor, bees are used usually for pollination.
3.Using pesticide
(May~)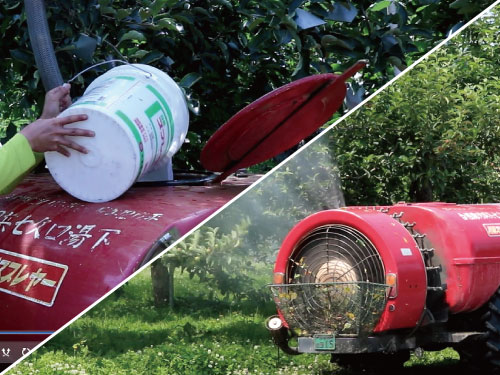 To protect apple trees from disease and insects, pesticides are used. The growers comply with the strict Japanese standards of pesticide use. They also pay attention to the environment when spraying.
4.Mowing
(May~)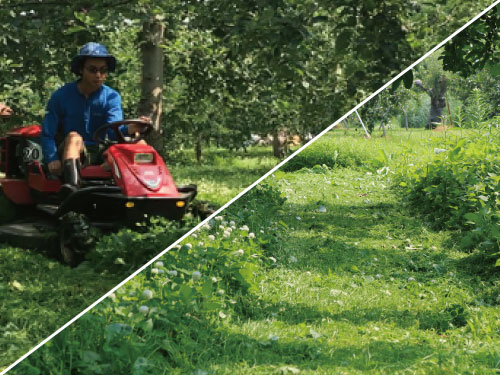 In apple orchards, grasses play a role of preventing the erosion of land caused by rain, as well as supplying organic matter. However when grasses grow too high, they cause malnutrition and a shortage of water in apple trees, which can lead to an outbreak of pests. To prevent this, growers mow weeds 4 to 6 times a year.
5.fruit thinning
(May to July)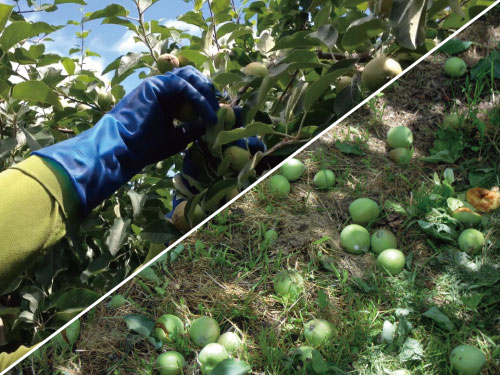 The irregular apples are carefully removed from the tree by hands to make sure that there are no immature or bruised ones. This is done to grow bigger and more delicious apples.
6.Bagging
(June to July)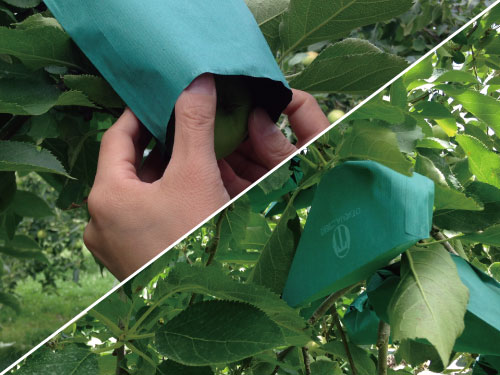 Growers bag apples one by one to protect them from diseases and pests, and to promote coloring and longer storage life as well. There are "bagged" and "un-bagged" apples.
7.Removing Leaves
(August to September)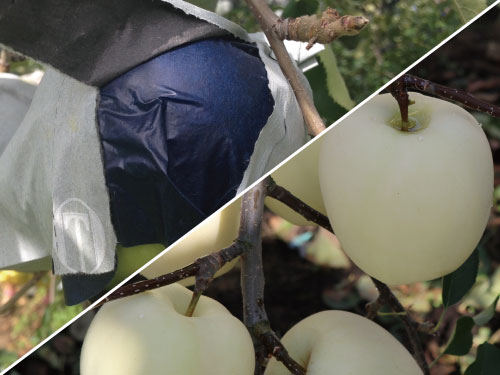 Bags are removed from apples from August to September depending on the variety. Once an apple is stripped, its color immediately brightens because it is exposed to a lot of sunlight. Some varieties sunburn easily. As a result, they are put into a maximum of 3 times, which are then gradually removed to prevent burning.
8.turning to coloring
(August to November)
After removing the bags, growers thin the leaves surrounding apples so that they get maximum sunlight. The apples are also rotated to receive sunlight on the whole surface. Now the harvest period rolls around.
9.Harvesting and Packing
(August to November)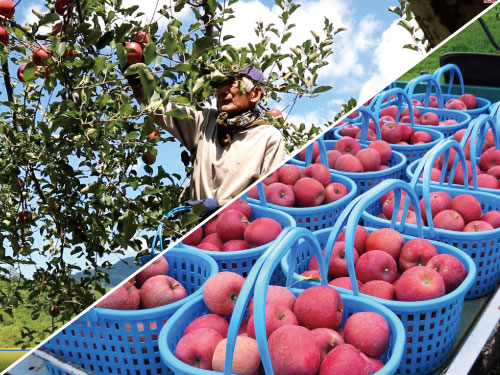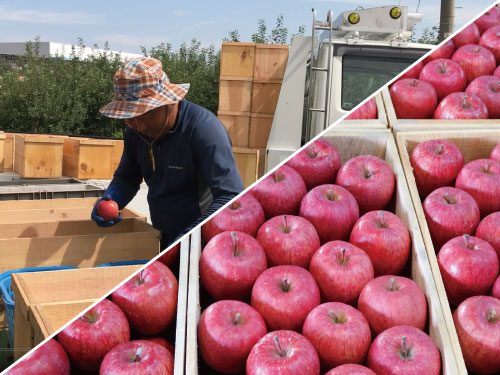 The grower begins harvesting when the fruit is at its peak flavor and the color has fully developed. The apples are handpicked to make sure the stem remains attached and that no bruising takes place. Then they are sorted depending on the color, size, shape and spots. They are delivered to the tables of valued customers.
The Coloring of Apples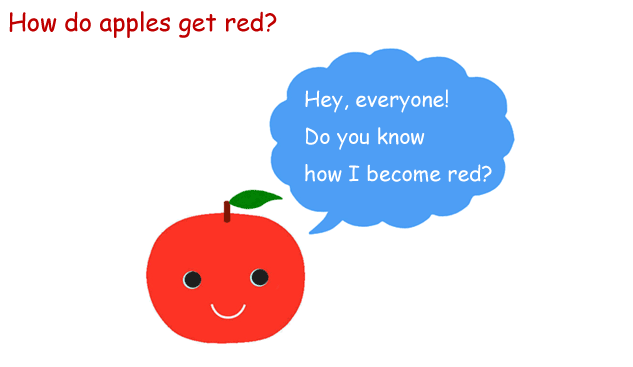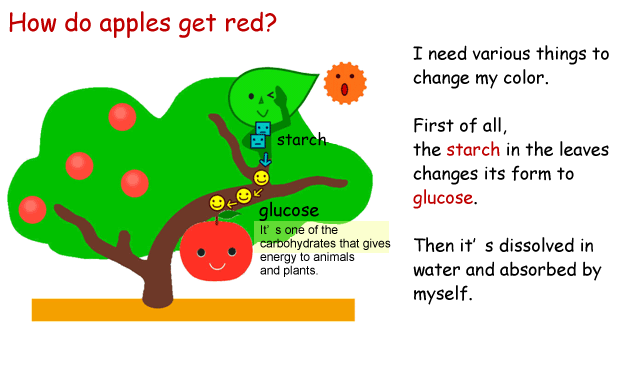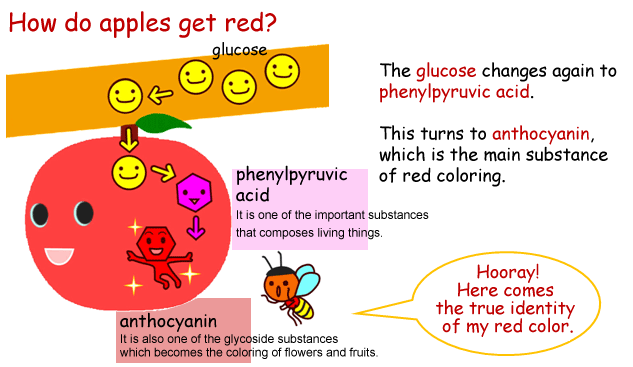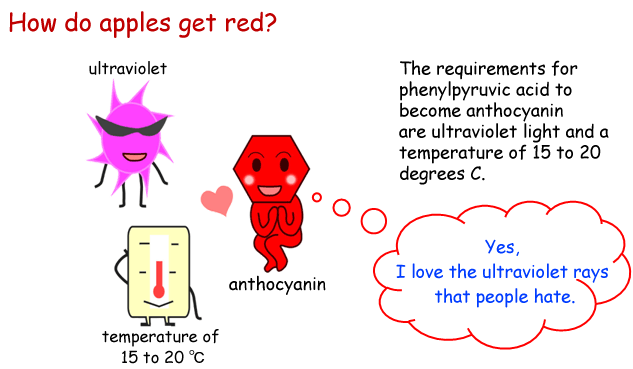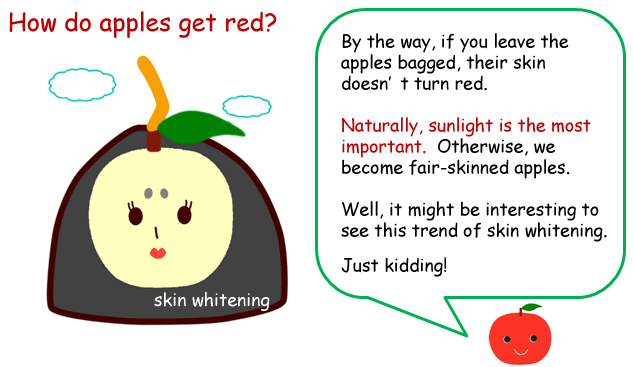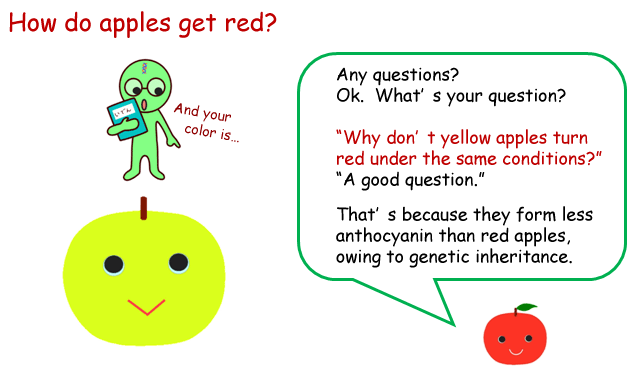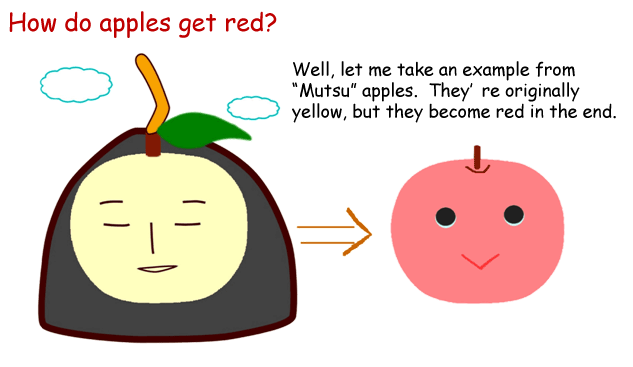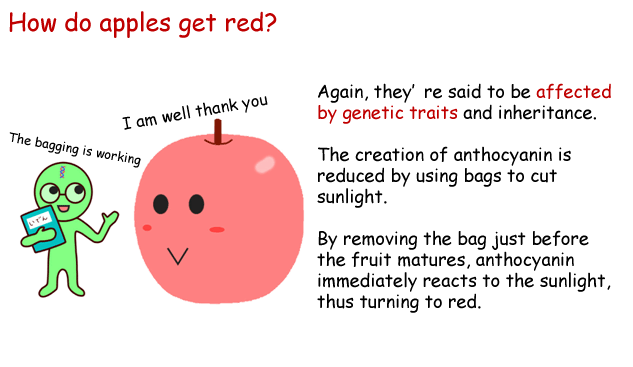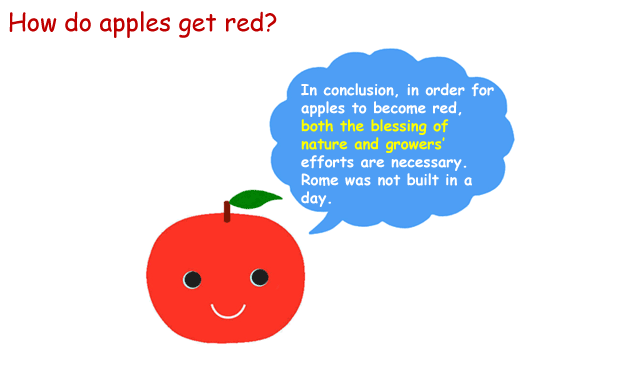 Cutting-edge equipment
Passion put into growing apples is not just for apple growers. Here we would like to introduce the cutting-edge equipment that Japanese engineers have developed.
Apple-sorting Machine:
The current sorting machine is a combination of quality control, transportation and sorting.
Sorting line:
Carries and sorts apples.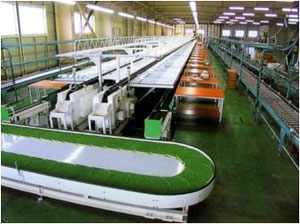 Quality Measuring System(right):
Measures sugar content, acid content, ripeness, honey core and browning using a light sensor.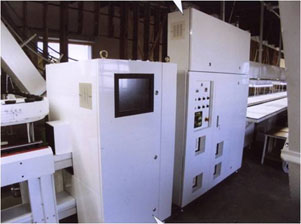 Image Processing System (left):
measures size, color and damage using a color camera.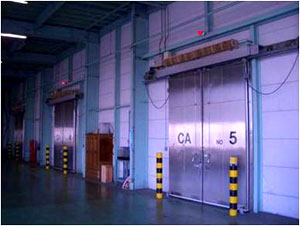 CA Storage (Controlled Atmosphere Storage) System:
The composition of the air isartificially changed and in combination with refrigeration, prevents a decline in quality and allows the fresh fruit to be stored longer.
Notable Contributors
The Department of Interior (the Home Office) imported apple seedlings from America and distributed three of them to Aomori Prefecture in 1875. They were planted in the grounds of the prefectural office.
After 130 years, Aomori harvests the highest number of apples in Japan and accounts for 53% of the total harvest (2005). We owe this success to our consumers and people who greatly contributed to apple-growing by establishing special techniques and keen research to overcome many problems. Farmers pay close attention to growing apples in order to show their respect and enthusiasm to those notable people and are still following their footsteps.
The many notable people who built the foundations of new techniques:
Kikuchi Tateye was the first one to plant apples and spread apple cultivation techniques and is called the patriarch of Aomori apples
Tonosaki Kashichi devoted his time to save Aomori apples from frequent pest crises and familiarized farmers with pest prevention and bagging. He was called the God of Apples.
Kimura Jinya analyzed endemic disease and established pest-prevention methods. This pest prevention system was implemented at the only Apple Experiment Station in the country. (The Kimura Jinya Prize is awarded to a person who remarkably contributes to the apple industry.)
Shibukawa Denjiro worked (labored) hard to reconstruct the devastated apple industry after the war. He promoted and taught the pruning technique and founded an organization called "Aomori Apple Association".
Saito Masam had confidence in the taste of "Tohoku 7 (currently called Fuji)" which was developed at the Ministry of Agriculture and Forest Horticultural Experiment Station, Tohoku Branch Office in 1957. He was convinced that Tohoku 7 (Fuji) could substitute the Kokkou apple and contributed greatly to the promotion of this new breed.
*Kaiku-sha was organized in 1877 to study and establish cultivation techniques learned from foreign engineers. It later became Tsugaru Industry Association and holds agriculture fairs to improve apple grower's techniques.
*Kounou Co., Ltd. was founded in 1887 and started researching pests. It contributed greatly to developing new breeding and dwarfing cultivation technique. It later changed its name to Apple Experiment Station but is presently called Aomori Apple Research Institute.
The survey on radioactive materials
We have been conducting a monitoring survey on radioactive materials since 2011.
For the results of the survey on Aomori Apples, please refer to the monitoring survey report below.
No radioactive material has ever been reported, as indicated by "No Detection." We are proud to serve Aomori Apples with your continued trust.
[Extracted from the results of the survey on the radioactive materials of Aomori Agriculture, Forestry and Fishery Products (English)]
City, town, or village
(Sampling locations・ Fishing ports of entry)
Radionuclides(Bq/kg)
Date of sampling
Date of measurement
Radioactive iodine 131
Radioactive cesium 134
Radioactive cesium 137
Nanbu Town
---
Not detected
(<15.0)
Not detected
(<10.0)
2017-11-9
2017-11-13
Hirosaki City
---
Not detected
(<15.0)
Not detected
(<10.0)
2017-11-6
2017-11-7
Kuroishi City
---
Not detected
(<15.0)
Not detected
(<10.0)
2017-11-6
2017-11-7
Goshogawara City
---
Not detected
(<15.0)
Not detected
(<10.0)
2017-10-31
2017-11-1
Turuta Town
---
Not detected
(<15.0)
Not detected
(<10.0)
2017-10-31
2017-11-1
Aomori City
---
Not detected
(<15.0)
Not detected
(<10.0)
2017-11-1
2017-11-1
Hirakawa City
---
Not detected
(<15.0)
Not detected
(<10.0)
2017-10-24
2017-10-26
Hirosaki City
---
Not detected
(<15.0)
Not detected
(<10.0)
2017-10-24
2017-10-26
Itayanagi Town
---
Not detected
(<15.0)
Not detected
(<10.0)
2017-10-24
2017-10-25
Hirosaki City
---
Not detected
(<15.0)
Not detected
(<10.0)
2017-10-11
2017-10-12
Itayanagi Town
---
Not detected
(<15.0)
Not detected
(<10.0)
2017-10-10
2017-10-11
Turuta Town
---
Not detected
(<15.0)
Not detected
(<10.0)
2017-10-10
2017-10-11
Aomori City
---
Not detected
(<15.0)
Not detected
(<10.0)
2017-10-11
2017-10-11
Goshogawara City
---
Not detected
(<15.0)
Not detected
(<10.0)
2017-9-25
2017-9-27
Nanbu Town
---
Not detected
(<15.0)
Not detected
(<10.0)
2017-9-26
2017-9-27
Kuroishi City
---
Not detected
(<15.0)
Not detected
(<10.0)
2017-9-22
2017-9-26
Hirakawa City
---
Not detected
(<15.0)
Not detected
(<10.0)
2017-9-19
2017-9-21
Ajigasawa Town
---
Not detected
(<15.0)
Not detected
(<10.0)
2016-11-9
2016-11-10
Hirosaki City
---
Not detected
(<15.0)
Not detected
(<10.0)
2016-10-31
2016-11-10
Owani Town
---
Not detected
(<15.0)
Not detected
(<10.0)
2016-10-31
2016-11-10
Goshogawara City
---
Not detected
(<15.0)
Not detected
(<10.0)
2016-11-7
2016-11-9
Itayanagi Town
---
Not detected
(<15.0)
Not detected
(<10.0)
2016-11-7
2016-11-9
Turuta Town
---
Not detected
(<15.0)
Not detected
(<10.0)
2016-11-7
2016-11-9
Hirakawa City
---
Not detected
(<15.0)
Not detected
(<10.0)
2016-10-28
2016-11-8
Nishimeya Village
---
Not detected
(<15.0)
Not detected
(<10.0)
2016-10-28
2016-11-8
Fujisaki Town
---
Not detected
(<15.0)
Not detected
(<10.0)
2016-10-27
2016-11-1
Kuroishi City
---
Not detected
(<15.0)
Not detected
(<10.0)
2016-10-31
2016-11-1
Tsugaru City
---
Not detected
(<15.0)
Not detected
(<10.0)
2016-10-27
2016-10-31
Inakadate Village
---
Not detected
(<15.0)
Not detected
(<10.0)
2016-10-25
2016-10-28
Aomori City
---
Not detected
(<15.0)
Not detected
(<10.0)
2016-10-21
2016-10-24
Nanbu Town
---
Not detected
(<15.0)
Not detected
(<10.0)
2016-9-30
2016-10-5
Shichinohe Town
---
Not detected
(<15.0)
Not detected
(<10.0)
2016-9-27
2016-9-29
Towada City
---
Not detected
(<15.0)
Not detected
(<10.0)
2016-9-26
2016-9-27
Hachinohe City
---
Not detected
(<15.0)
Not detected
(<10.0)
2016-9-16
2016-9-21
Gonohe Town
---
Not detected
(<15.0)
Not detected
(<10.0)
2016-9-13
2016-9-14
Sannohe Town
---
Not detected
(<15.0)
Not detected
(<10.0)
2016-9-13
2016-9-14
Takko Town
---
Not detected
(<15.0)
Not detected
(<10.0)
2016-9-13
2016-9-14
Aomori City
---
Not detected
(<15.0)
Not detected
(<10.0)
2016-8-26
2016-8-29
Tsugaru City
---
Not detected
(<15.0)
Not detected
(<10.0)
2016-8-23
2016-8-26
Ajigasawa Town
---
Not detected
(<15.0)
Not detected
(<10.0)
2016-8-24
2016-8-26
Hirakawa City
---
Not detected
(<15.0)
Not detected
(<10.0)
2016-8-23
2016-8-25
Goshogawara City
---
Not detected
(<15.0)
Not detected
(<10.0)
2016-8-23
2016-8-24
Itayanagi Town
---
Not detected
(<15.0)
Not detected
(<10.0)
2016-8-23
2016-8-24
Turuta Town
---
Not detected
(<15.0)
Not detected
(<10.0)
2016-8-23
2016-8-24
Kuroishi City
---
Not detected
(<15.0)
Not detected
(<10.0)
2016-8-22
2016-8-23
Inakadate Village
---
Not detected
(<15.0)
Not detected
(<10.0)
2016-8-22
2016-8-23
Nishimeya Village
---
Not detected
(<15.0)
Not detected
(<10.0)
2016-8-8
2016-8-18
Hirosaki City
---
Not detected
(<15.0)
Not detected
(<10.0)
2016-8-8
2016-8-16
Owani Town
---
Not detected
(<15.0)
Not detected
(<10.0)
2016-8-8
2016-8-16
Fujisaki Town
---
Not detected
(<15.0)
Not detected
(<10.0)
2016-8-10
2016-8-12
Itayanagi Town
---
Not detected
(<15.0)
Not detected
(<10.0)
2015-11-4
2015-11-5
Turuta Town
---
Not detected
(<15.0)
Not detected
(<10.0)
2015-11-4
2015-11-5
Aomori City
---
Not detected
(<15.0)
Not detected
(<10.0)
2015-10-28
2015-11-4
Goshogawara City
---
Not detected
(<15.0)
Not detected
(<10.0)
2015-11-4
2015-11-4
Tsugaru City
---
Not detected
(<15.0)
Not detected
(<10.0)
2015-10-28
2015-10-29
Ajigasawa Town
---
Not detected
(<15.0)
Not detected
(<10.0)
2015-10-28
2015-10-29
Inakadate Village
---
Not detected
(<15.0)
Not detected
(<10.0)
2015-10-26
2015-10-27
Owani Town
---
Not detected
(<15.0)
Not detected
(<10.0)
2015-10-20
2015-10-22
Nishimeya Village
---
Not detected
(<15.0)
Not detected
(<10.0)
2015-10-20
2015-10-22
Hirosaki City
---
Not detected
(<15.0)
Not detected
(<10.0)
2015-10-15
2015-10-20
Hirakawa City
---
Not detected
(<15.0)
Not detected
(<10.0)
2015-10-16
2015-10-20
Kuroishi City
---
Not detected
(<15.0)
Not detected
(<10.0)
2015-10-15
2015-10-15
Fujisaki Town
---
Not detected
(<15.0)
Not detected
(<10.0)
2015-10-15
2015-10-15
Towada City
---
Not detected
(<15.0)
Not detected
(<10.0)
2015-9-28
2015-9-29
Shichinohe Town
---
Not detected
(<15.0)
Not detected
(<10.0)
2015-9-28
2015-9-29
Hachinohe City
---
Not detected
(<15.0)
Not detected
(<10.0)
2015-9-15
2015-9-28
Sannohe Town
---
Not detected
(<15.0)
Not detected
(<10.0)
2015-9-15
2015-9-16
Takko Town
---
Not detected
(<15.0)
Not detected
(<10.0)
2015-9-15
2015-9-16
Gonohe Town
---
Not detected
(<15.0)
Not detected
(<10.0)
2015-9-11
2015-9-14
Nanbu Town
---
Not detected
(<5.0)
Not detected
(<5.0)
2015-9-10
2015-9-11
Aomori City
---
Not detected
(<15.0)
Not detected
(<10.0)
2015-8-26
2015-8-28
Owani Town
---
Not detected
(<15.0)
Not detected
(<10.0)
2015-8-26
2015-8-27
Goshogawara City
---
Not detected
(<15.0)
Not detected
(<10.0)
2015-8-24
2015-8-26
Itayanagi Town
---
Not detected
(<15.0)
Not detected
(<10.0)
2015-8-24
2015-8-26
Turuta Town
---
Not detected
(<15.0)
Not detected
(<10.0)
2015-8-24
2015-8-26
Ajigasawa Town
---
Not detected
(<15.0)
Not detected
(<10.0)
2015-8-25
2015-8-26
Fujisaki Town
---
Not detected
(<15.0)
Not detected
(<10.0)
2015-8-25
2015-8-25
Tsugaru City
---
Not detected
(<15.0)
Not detected
(<10.0)
2015-8-20
2015-8-21
Nishimeya Village
---
Not detected
(<15.0)
Not detected
(<10.0)
2015-8-19
2015-8-20
Hirakawa City
---
Not detected
(<15.0)
Not detected
(<10.0)
2015-8-17
2015-8-18
Hirosaki City
---
Not detected
(<15.0)
Not detected
(<10.0)
2015-8-10
2015-8-11
Kuroishi City
---
Not detected
(<15.0)
Not detected
(<10.0)
2015-8-10
2015-8-11
Inakadate Village
---
Not detected
(<15.0)
Not detected
(<10.0)
2015-8-10
2015-8-10
Hirakawa City
---
Not detected
(<15.0)
Not detected
(<10.0)
2014-11-12
2014-11-13
Owani Town
---
Not detected
(<15.0)
Not detected
(<10.0)
2014-11-12
2014-11-13
Nanbu Town
---
Not detected
(<15.0)
Not detected
(<10.0)
2014-11-11
2014-11-12
Inakadate Village
---
Not detected
(<15.0)
Not detected
(<10.0)
2014-11-11
2014-11-11
Kuroishi City
---
Not detected
(<15.0)
Not detected
(<10.0)
2014-11-7
2014-11-11
Aomori City
---
Not detected
(<15.0)
Not detected
(<10.0)
2014-11-5
2014-11-7
Tsugaru City
---
Not detected
(<15.0)
Not detected
(<10.0)
2014-11-5
2014-11-6
Ajigasawa Town
---
Not detected
(<15.0)
Not detected
(<10.0)
2014-11-5
2014-11-6
Hirosaki City
---
Not detected
(<15.0)
Not detected
(<10.0)
2014-11-4
2014-11-6
Nishimeya Village
---
Not detected
(<15.0)
Not detected
(<10.0)
2014-11-5
2014-11-6
Itayanagi Town
---
Not detected
(<15.0)
Not detected
(<10.0)
2014-11-4
2014-11-5
Turuta Town
---
Not detected
(<15.0)
Not detected
(<10.0)
2014-11-4
2014-11-5
Goshogawara City
---
Not detected
(<15.0)
Not detected
(<10.0)
2014-11-5
2014-11-5
Fujisaki Town
---
Not detected
(<15.0)
Not detected
(<10.0)
2014-11-4
2014-11-4
Takko Town
---
Not detected
(<15.0)
Not detected
(<10.0)
2014-10-16
2014-10-17
Shichinohe Town
---
Not detected
(<15.0)
Not detected
(<10.0)
2014-9-29
2014-9-30
Towada City
---
Not detected
(<15.0)
Not detected
(<10.0)
2014-9-29
2014-9-30
Gonohe Town
---
Not detected
(<15.0)
Not detected
(<10.0)
2014-9-11
2014-9-12
Sannohe Town
---
Not detected
(<15.0)
Not detected
(<10.0)
2014-9-11
2014-9-12
Hachinohe City
---
Not detected
(<15.0)
Not detected
(<10.0)
2014-9-8
2014-9-10
Nanbu Town
---
Not detected
(<15.0)
Not detected
(<10.0)
2014-9-3
2014-9-5
Aomori City
---
Not detected
(<15.0)
Not detected
(<10.0)
2014-8-27
2014-8-29
Owani Town
---
Not detected
(<15.0)
Not detected
(<10.0)
2014-8-26
2014-8-28
Goshogawara City
---
Not detected
(<15.0)
Not detected
(<10.0)
2014-8-25
2014-8-27
Itayanagi Town
---
Not detected
(<15.0)
Not detected
(<10.0)
2014-8-25
2014-8-27
Turuta Town
---
Not detected
(<15.0)
Not detected
(<10.0)
2014-8-25
2014-8-27
Ajigasawa Town
---
Not detected
(<15.0)
Not detected
(<10.0)
2014-8-26
2014-8-27
Tsugaru City
---
Not detected
(<15.0)
Not detected
(<10.0)
2014-8-26
2014-8-27
Inakadate Village
---
Not detected
(<15.0)
Not detected
(<10.0)
2014-8-25
2014-8-26
Hirakawa City
---
Not detected
(<15.0)
Not detected
(<10.0)
2014-8-25
2014-8-26
Kuroishi City
---
Not detected
(<15.0)
Not detected
(<10.0)
2014-8-25
2014-8-25
Hirosaki City
---
Not detected
(<15.0)
Not detected
(<10.0)
2014-8-18
2014-8-21
Nishimeya Village
---
Not detected
(<15.0)
Not detected
(<10.0)
2014-8-18
2014-8-21
Fujisaki Town
---
Not detected
(<15.0)
Not detected
(<10.0)
2014-8-8
2014-8-12
Nanbu Town
---
Not detected
(<15.0)
Not detected
(<10.0)
2013-11-22
2013-11-25
Nanbu Town
---
Not detected
(<15.0)
Not detected
(<10.0)
2013-11-22
2013-11-25
Sannohe Town
---
Not detected
(<15.0)
Not detected
(<10.0)
2013-11-21
2013-11-22
Takko Town
---
Not detected
(<15.0)
Not detected
(<10.0)
2013-11-21
2013-11-22
Turuta Town
---
Not detected
(<15.0)
Not detected
(<10.0)
2013-11-20
2013-11-21
Turuta Town
---
Not detected
(<15.0)
Not detected
(<10.0)
2013-11-20
2013-11-21
Goshogawara City
---
Not detected
(<15.0)
Not detected
(<10.0)
2013-11-18
2013-11-20
Goshogawara City
---
Not detected
(<15.0)
Not detected
(<10.0)
2013-11-18
2013-11-20
Hachinohe City
---
Not detected
(<15.0)
Not detected
(<10.0)
2013-11-18
2013-11-20
Gonohe Town
---
Not detected
(<15.0)
Not detected
(<10.0)
2013-11-19
2013-11-20
Towada City
---
Not detected
(<15.0)
Not detected
(<10.0)
2013-11-18
2013-11-19
Shichinohe Town
---
Not detected
(<15.0)
Not detected
(<10.0)
2013-11-18
2013-11-19
Hirosaki City
---
Not detected
(<15.0)
Not detected
(<10.0)
2013-11-12
2013-11-14
Owani Town
---
Not detected
(<15.0)
Not detected
(<10.0)
2013-11-12
2013-11-14
Fujisaki Town
---
Not detected
(<15.0)
Not detected
(<10.0)
2013-11-11
2013-11-12
Fujisaki Town
---
Not detected
(<15.0)
Not detected
(<10.0)
2013-11-11
2013-11-12
Inakadate Village
---
Not detected
(<15.0)
Not detected
(<10.0)
2013-11-11
2013-11-11
Hirosaki City
---
Not detected
(<15.0)
Not detected
(<10.0)
2013-11-7
2013-11-11
Hirosaki City
---
Not detected
(<15.0)
Not detected
(<10.0)
2013-11-7
2013-11-11
Nishimeya Village
---
Not detected
(<15.0)
Not detected
(<10.0)
2013-11-7
2013-11-11
Aomori City
---
Not detected
(<15.0)
Not detected
(<10.0)
2013-11-6
2013-11-8
Aomori City
---
Not detected
(<15.0)
Not detected
(<10.0)
2013-11-6
2013-11-8
Hirakawa City
---
Not detected
(<15.0)
Not detected
(<10.0)
2013-11-6
2013-11-7
Hirakawa City
---
Not detected
(<15.0)
Not detected
(<10.0)
2013-11-6
2013-11-7
Ajigasawa Town
---
Not detected
(<15.0)
Not detected
(<10.0)
2013-11-1
2013-11-6
Tsugaru City
---
Not detected
(<15.0)
Not detected
(<10.0)
2013-11-5
2013-11-6
Itayanagi Town
---
Not detected
(<15.0)
Not detected
(<10.0)
2013-11-5
2013-11-6
Itayanagi Town
---
Not detected
(<15.0)
Not detected
(<10.0)
2013-11-5
2013-11-6
Kuroishi City
---
Not detected
(<15.0)
Not detected
(<10.0)
2013-11-1
2013-11-1
Kuroishi City
---
Not detected
(<15.0)
Not detected
(<10.0)
2013-11-1
2013-11-1
Goshogawara City
---
Not detected
(<15.0)
Not detected
(<10.0)
2013-10-30
2013-10-31
Goshogawara City
---
Not detected
(<15.0)
Not detected
(<10.0)
2013-10-30
2013-10-31
Gonohe Town
---
Not detected
(<15.0)
Not detected
(<10.0)
2013-10-29
2013-10-30
Turuta Town
---
Not detected
(<15.0)
Not detected
(<10.0)
2013-10-25
2013-10-30
Turuta Town
---
Not detected
(<15.0)
Not detected
(<10.0)
2013-10-25
2013-10-30
Towada City
---
Not detected
(<15.0)
Not detected
(<10.0)
2013-10-24
2013-10-29
Nanbu Town
---
Not detected
(<15.0)
Not detected
(<10.0)
2013-10-23
2013-10-25
Sannohe Town
---
Not detected
(<15.0)
Not detected
(<10.0)
2013-10-22
2013-10-23
Nanbu Town
---
Not detected
(<15.0)
Not detected
(<10.0)
2013-10-22
2013-10-23
Nishimeya Village
---
Not detected
(<15.0)
Not detected
(<10.0)
2013-10-21
2013-10-22
Fujisaki Town
---
Not detected
(<15.0)
Not detected
(<10.0)
2013-10-22
2013-10-22
Fujisaki Town
---
Not detected
(<15.0)
Not detected
(<10.0)
2013-10-22
2013-10-22
Inakadate Village
---
Not detected
(<15.0)
Not detected
(<10.0)
2013-10-22
2013-10-22
Hachinohe City
---
Not detected
(<15.0)
Not detected
(<10.0)
2013-10-17
2013-10-21
Ajigasawa Town
---
Not detected
(<15.0)
Not detected
(<10.0)
2013-10-16
2013-10-18
Tsugaru City
---
Not detected
(<15.0)
Not detected
(<10.0)
2013-10-18
2013-10-18
Hirakawa City
---
Not detected
(<15.0)
Not detected
(<10.0)
2013-10-15
2013-10-16
Owani Town
---
Not detected
(<15.0)
Not detected
(<10.0)
2013-10-15
2013-10-16
Hirosaki City
---
Not detected
(<15.0)
Not detected
(<10.0)
2013-10-8
2013-10-10
Hirosaki City
---
Not detected
(<15.0)
Not detected
(<10.0)
2013-10-8
2013-10-10
Kuroishi City
---
Not detected
(<15.0)
Not detected
(<10.0)
2013-10-10
2013-10-10
Kuroishi City
---
Not detected
(<15.0)
Not detected
(<10.0)
2013-10-10
2013-10-10
Itayanagi Town
---
Not detected
(<15.0)
Not detected
(<10.0)
2013-10-7
2013-10-9
Itayanagi Town
---
Not detected
(<15.0)
Not detected
(<10.0)
2013-10-7
2013-10-9
Aomori City
---
Not detected
(<15.0)
Not detected
(<10.0)
2013-10-4
2013-10-8
Aomori City
---
Not detected
(<15.0)
Not detected
(<10.0)
2013-10-4
2013-10-8
Hirakawa City
---
Not detected
(<15.0)
Not detected
(<10.0)
2013-10-7
2013-10-8
Hirosaki City
---
Not detected
(<15.0)
Not detected
(<10.0)
2013-9-30
2013-10-3
Hachinohe City
---
Not detected
(<15.0)
Not detected
(<10.0)
2013-9-27
2013-9-30
Ajigasawa Town
---
Not detected
(<15.0)
Not detected
(<10.0)
2013-9-26
2013-9-27
Nishimeya Village
---
Not detected
(<15.0)
Not detected
(<10.0)
2013-9-24
2013-9-26
Towada City
---
Not detected
(<15.0)
Not detected
(<10.0)
2013-9-25
2013-9-26
Sannohe Town
---
Not detected
(<15.0)
Not detected
(<10.0)
2013-9-20
2013-9-25
Nanbu Town
---
Not detected
(<15.0)
Not detected
(<10.0)
2013-9-20
2013-9-25
Inakadate Village
---
Not detected
(<15.0)
Not detected
(<10.0)
2013-9-19
2013-9-20
Turuta Town
---
Not detected
(<15.0)
Not detected
(<10.0)
2013-9-19
2013-9-20
Turuta Town
---
Not detected
(<15.0)
Not detected
(<10.0)
2013-9-19
2013-9-20
Goshogawara City
---
Not detected
(<15.0)
Not detected
(<10.0)
2013-9-18
2013-9-19
Goshogawara City
---
Not detected
(<15.0)
Not detected
(<10.0)
2013-9-18
2013-9-19
Fujisaki Town
---
Not detected
(<15.0)
Not detected
(<10.0)
2013-9-19
2013-9-19
Fujisaki Town
---
Not detected
(<15.0)
Not detected
(<10.0)
2013-9-19
2013-9-19
Hirakawa City
---
Not detected
(<15.0)
Not detected
(<10.0)
2013-9-17
2013-9-18
Hirakawa City
---
Not detected
(<15.0)
Not detected
(<10.0)
2013-9-17
2013-9-18
Owani Town
---
Not detected
(<15.0)
Not detected
(<10.0)
2013-9-18
2013-9-18
Itayanagi Town
---
Not detected
(<15.0)
Not detected
(<10.0)
2013-9-10
2013-9-13
Itayanagi Town
---
Not detected
(<15.0)
Not detected
(<10.0)
2013-9-10
2013-9-13
Tsugaru City
---
Not detected
(<15.0)
Not detected
(<10.0)
2013-9-12
2013-9-13
Kuroishi City
---
Not detected
(<15.0)
Not detected
(<10.0)
2013-9-12
2013-9-13
Kuroishi City
---
Not detected
(<15.0)
Not detected
(<10.0)
2013-9-12
2013-9-13
Gonohe Town
---
Not detected
(<15.0)
Not detected
(<10.0)
2013-9-10
2013-9-11
Hirosaki City
---
Not detected
(<15.0)
Not detected
(<10.0)
2013-9-10
2013-9-11
Hirosaki City
---
Not detected
(<15.0)
Not detected
(<10.0)
2013-9-10
2013-9-11
Hirosaki City
---
Not detected
(<15.0)
Not detected
(<10.0)
2013-9-10
2013-9-11
Aomori City
---
Not detected
(<15.0)
Not detected
(<10.0)
2013-9-6
2013-9-9
Aomori City
---
Not detected
(<15.0)
Not detected
(<10.0)
2013-9-6
2013-9-9
Aomori City
---
Not detected
(<15.0)
Not detected
(<10.0)
2013-8-28
2013-9-6
Nanbu Town
---
Not detected
(<15.0)
Not detected
(<10.0)
2013-9-4
2013-9-6
Hachinohe City
---
Not detected
(<15.0)
Not detected
(<10.0)
2013-8-30
2013-9-4
Nanbu Town
---
Not detected
(<15.0)
Not detected
(<10.0)
2013-8-28
2013-9-2
Goshogawara City
---
Not detected
(<15.0)
Not detected
(<10.0)
2013-8-26
2013-8-28
Ajigasawa Town
---
Not detected
(<15.0)
Not detected
(<10.0)
2013-8-26
2013-8-28
Tsugaru City
---
Not detected
(<15.0)
Not detected
(<10.0)
2013-8-27
2013-8-28
Hirosaki City
---
Not detected
(<15.0)
Not detected
(<10.0)
2013-8-27
2013-8-28
Nishimeya Village
---
Not detected
(<15.0)
Not detected
(<10.0)
2013-8-27
2013-8-28
Hirakawa City
---
Not detected
(<15.0)
Not detected
(<10.0)
2013-8-26
2013-8-27
Owani Town
---
Not detected
(<15.0)
Not detected
(<10.0)
2013-8-26
2013-8-27
Turuta Town
---
Not detected
(<15.0)
Not detected
(<10.0)
2013-8-22
2013-8-23
Fujisaki Town
---
Not detected
(<15.0)
Not detected
(<10.0)
2013-8-21
2013-8-22
Inakadate Village
---
Not detected
(<15.0)
Not detected
(<10.0)
2013-8-21
2013-8-22
Kuroishi City
---
Not detected
(<15.0)
Not detected
(<10.0)
2013-8-21
2013-8-22
Itayanagi Town
---
Not detected
(<15.0)
Not detected
(<10.0)
2013-8-20
2013-8-21
Gonohe Town
---
Not detected
(<15.0)
Not detected
(<10.0)
2013-8-12
2013-8-16
Hachinohe City
---
Not detected
(<15.0)
Not detected
(<10.0)
2012-11-20
2012-11-21
Nanbu Town
---
Not detected
(<15.0)
Not detected
(<10.0)
2012-11-15
2012-11-16
Owani Town
---
Not detected
(<15.0)
Not detected
(<10.0)
2012-11-12
2012-11-14
Goshogawara City
---
Not detected
(<15.0)
Not detected
(<10.0)
2012-11-13
2012-11-14
Goshogawara City
---
Not detected
(<15.0)
Not detected
(<10.0)
2012-11-13
2012-11-14
Turuta Town
---
Not detected
(<15.0)
Not detected
(<10.0)
2012-11-9
2012-11-13
Turuta Town
---
Not detected
(<15.0)
Not detected
(<10.0)
2012-11-9
2012-11-13
Inakadate Village
---
Not detected
(<15.0)
Not detected
(<10.0)
2012-11-8
2012-11-9
Sannohe Town
---
Not detected
(<15.0)
Not detected
(<10.0)
2012-11-8
2012-11-9
Takko Town
---
Not detected
(<15.0)
Not detected
(<10.0)
2012-11-8
2012-11-9
Towada City
---
Not detected
(<15.0)
Not detected
(<10.0)
2012-11-8
2012-11-9
Fujisaki Town
---
Not detected
(<15.0)
Not detected
(<10.0)
2012-11-9
2012-11-9
Fujisaki Town
---
Not detected
(<15.0)
Not detected
(<10.0)
2012-11-9
2012-11-9
Itayanagi Town
---
Not detected
(<15.0)
Not detected
(<10.0)
2012-11-6
2012-11-8
Itayanagi Town
---
Not detected
(<15.0)
Not detected
(<10.0)
2012-11-6
2012-11-8
Tsugaru City
---
Not detected
(<15.0)
Not detected
(<10.0)
2012-11-6
2012-11-8
Ajigasawa Town
---
Not detected
(<15.0)
Not detected
(<10.0)
2012-11-6
2012-11-8
Shichinohe Town
---
Not detected
(<15.0)
Not detected
(<10.0)
2012-11-6
2012-11-8
Hirakawa City
---
Not detected
(<15.0)
Not detected
(<10.0)
2012-11-6
2012-11-8
Hirakawa City
---
Not detected
(<15.0)
Not detected
(<10.0)
2012-11-6
2012-11-8
Hirosaki City
---
Not detected
(<15.0)
Not detected
(<10.0)
2012-11-5
2012-11-7
Hirosaki City
---
Not detected
(<15.0)
Not detected
(<10.0)
2012-11-5
2012-11-7
Hirosaki City
---
Not detected
(<15.0)
Not detected
(<10.0)
2012-11-5
2012-11-7
Nishimeya Village
---
Not detected
(<15.0)
Not detected
(<10.0)
2012-11-2
2012-11-5
Gonohe Town
---
Not detected
(<15.0)
Not detected
(<10.0)
2012-11-1
2012-11-2
Nanbu Town
---
Not detected
(<15.0)
Not detected
(<10.0)
2012-11-1
2012-11-2
Kuroishi City
---
Not detected
(<15.0)
Not detected
(<10.0)
2012-11-2
2012-11-2
Kuroishi City
---
Not detected
(<15.0)
Not detected
(<10.0)
2012-11-2
2012-11-2
Nishimeya Village
---
Not detected
(<15.0)
Not detected
(<10.0)
2012-10-29
2012-10-31
Owani Town
---
Not detected
(<15.0)
Not detected
(<10.0)
2012-10-30
2012-10-31
Towada City
---
Not detected
(<15.0)
Not detected
(<10.0)
2012-10-23
2012-10-30
Aomori City
---
Not detected
(<15.0)
Not detected
(<10.0)
2012-10-30
2012-10-30
Aomori City
---
Not detected
(<15.0)
Not detected
(<10.0)
2012-10-30
2012-10-30
Turuta Town
---
Not detected
(<15.0)
Not detected
(<10.0)
2012-10-23
2012-10-25
Turuta Town
---
Not detected
(<15.0)
Not detected
(<10.0)
2012-10-23
2012-10-25
Hirakawa City
---
Not detected
(<15.0)
Not detected
(<10.0)
2012-10-22
2012-10-24
Inakadate Village
---
Not detected
(<15.0)
Not detected
(<10.0)
2012-10-22
2012-10-24
Hirakawa City
---
Not detected
(<15.0)
Not detected
(<10.0)
2012-10-23
2012-10-24
Fujisaki Town
---
Not detected
(<15.0)
Not detected
(<10.0)
2012-10-24
2012-10-24
Fujisaki Town
---
Not detected
(<15.0)
Not detected
(<10.0)
2012-10-24
2012-10-24
Tsugaru City
---
Not detected
(<15.0)
Not detected
(<10.0)
2012-10-17
2012-10-23
Itayanagi Town
---
Not detected
(<15.0)
Not detected
(<10.0)
2012-10-18
2012-10-23
Itayanagi Town
---
Not detected
(<15.0)
Not detected
(<10.0)
2012-10-18
2012-10-23
Goshogawara City
---
Not detected
(<15.0)
Not detected
(<10.0)
2012-10-19
2012-10-23
Goshogawara City
---
Not detected
(<15.0)
Not detected
(<10.0)
2012-10-19
2012-10-23
Ajigasawa Town
---
Not detected
(<15.0)
Not detected
(<10.0)
2012-10-19
2012-10-23
Hirosaki City
---
Not detected
(<15.0)
Not detected
(<10.0)
2012-10-18
2012-10-22
Hirosaki City
---
Not detected
(<15.0)
Not detected
(<10.0)
2012-10-18
2012-10-22
Hirosaki City
---
Not detected
(<15.0)
Not detected
(<10.0)
2012-10-19
2012-10-22
Hachinohe City
---
Not detected
(<15.0)
Not detected
(<10.0)
2012-10-16
2012-10-17
Nanbu Town
---
Not detected
(<15.0)
Not detected
(<10.0)
2012-10-16
2012-10-17
Kuroishi City
---
Not detected
(<15.0)
Not detected
(<10.0)
2012-10-17
2012-10-17
Kuroishi City
---
Not detected
(<15.0)
Not detected
(<10.0)
2012-10-17
2012-10-17
Gonohe Town
---
Not detected
(<15.0)
Not detected
(<10.0)
2012-10-11
2012-10-12
Aomori City
---
Not detected
(<15.0)
Not detected
(<10.0)
2012-10-9
2012-10-9
Aomori City
---
Not detected
(<15.0)
Not detected
(<10.0)
2012-10-9
2012-10-9
Nanbu Town
---
Not detected
(<15.0)
Not detected
(<10.0)
2012-10-2
2012-10-3
Sannohe Town
---
Not detected
(<15.0)
Not detected
(<10.0)
2012-10-2
2012-10-3
Ajigasawa Town
---
Not detected
(<15.0)
Not detected
(<10.0)
2012-9-26
2012-9-28
Gonohe Town
---
Not detected
(<15.0)
Not detected
(<10.0)
2012-9-27
2012-9-28
Turuta Town
---
Not detected
(<15.0)
Not detected
(<10.0)
2012-9-24
2012-9-27
Towada City
---
Not detected
(<15.0)
Not detected
(<10.0)
2012-9-26
2012-9-27
Inakadate Village
---
Not detected
(<15.0)
Not detected
(<10.0)
2012-9-27
2012-9-27
Tsugaru City
---
Not detected
(<15.0)
Not detected
(<10.0)
2012-9-27
2012-9-27
Hirosaki City
---
Not detected
(<15.0)
Not detected
(<10.0)
2012-9-24
2012-9-26
Itayanagi Town
---
Not detected
(<15.0)
Not detected
(<10.0)
2012-9-24
2012-9-26
Itayanagi Town
---
Not detected
(<15.0)
Not detected
(<10.0)
2012-9-24
2012-9-26
Hirosaki City
---
Not detected
(<15.0)
Not detected
(<10.0)
2012-9-25
2012-9-26
Goshogawara City
---
Not detected
(<15.0)
Not detected
(<10.0)
2012-9-25
2012-9-26
Goshogawara City
---
Not detected
(<15.0)
Not detected
(<10.0)
2012-9-25
2012-9-26
Owani Town
---
Not detected
(<15.0)
Not detected
(<10.0)
2012-9-20
2012-9-24
Nishimeya Village
---
Not detected
(<15.0)
Not detected
(<10.0)
2012-9-20
2012-9-24
Hirakawa City
---
Not detected
(<15.0)
Not detected
(<10.0)
2012-9-18
2012-9-21
Hirakawa City
---
Not detected
(<15.0)
Not detected
(<10.0)
2012-9-19
2012-9-21
Fujisaki Town
---
Not detected
(<15.0)
Not detected
(<10.0)
2012-9-18
2012-9-19
Hachinohe City
---
Not detected
(<15.0)
Not detected
(<10.0)
2012-9-18
2012-9-19
Nanbu Town
---
Not detected
(<15.0)
Not detected
(<10.0)
2012-9-18
2012-9-19
Fujisaki Town
---
Not detected
(<15.0)
Not detected
(<10.0)
2012-9-18
2012-9-19
Aomori City
---
Not detected
(<15.0)
Not detected
(<10.0)
2012-9-18
2012-9-18
Aomori City
---
Not detected
(<15.0)
Not detected
(<10.0)
2012-9-18
2012-9-18
Kuroishi City
---
Not detected
(<15.0)
Not detected
(<10.0)
2012-9-13
2012-9-14
Kuroishi City
---
Not detected
(<15.0)
Not detected
(<10.0)
2012-9-13
2012-9-13
Hirosaki City
---
Not detected
(<15.0)
Not detected
(<10.0)
2012-9-11
2012-9-12
Sannohe Town
---
Not detected
(<15.0)
Not detected
(<10.0)
2012-9-11
2012-9-12
Nanbu Town
---
Not detected
(<15.0)
Not detected
(<10.0)
2012-9-6
2012-9-7
Aomori City
---
Not detected
(<15.0)
Not detected
(<10.0)
2012-8-30
2012-8-30
Inakadate Village
---
Not detected
(<15.0)
Not detected
(<10.0)
2012-8-30
2012-8-30
Nishimeya Village
---
Not detected
(<15.0)
Not detected
(<10.0)
2012-8-27
2012-8-29
Ajigasawa Town
---
Not detected
(<15.0)
Not detected
(<10.0)
2012-8-28
2012-8-29
Tsugaru City
---
Not detected
(<15.0)
Not detected
(<10.0)
2012-8-29
2012-8-29
Owani Town
---
Not detected
(<15.0)
Not detected
(<10.0)
2012-8-27
2012-8-28
Hachinohe City
---
Not detected
(<15.0)
Not detected
(<10.0)
2012-8-24
2012-8-27
Sannohe Town
---
Not detected
(<15.0)
Not detected
(<10.0)
2012-8-24
2012-8-27
Hirakawa City
---
Not detected
(<15.0)
Not detected
(<10.0)
2012-8-21
2012-8-23
Gonohe Town
---
Not detected
(<15.0)
Not detected
(<10.0)
2012-8-21
2012-8-23
Itayanagi Town
---
Not detected
(<15.0)
Not detected
(<10.0)
2012-8-22
2012-8-23
Hirosaki City
---
Not detected
(<15.0)
Not detected
(<10.0)
2012-8-22
2012-8-23
Kuroishi City
---
Not detected
(<15.0)
Not detected
(<10.0)
2012-8-23
2012-8-23
Fujisaki Town
---
Not detected
(<15.0)
Not detected
(<10.0)
2012-8-23
2012-8-23
Goshogawara City
---
Not detected
(<15.0)
Not detected
(<10.0)
2012-8-21
2012-8-22
Nanbu Town
---
Not detected
(<15.0)
Not detected
(<10.0)
2012-8-16
2012-8-17
Turuta Town
---
Not detected
(<15.0)
Not detected
(<10.0)
2012-8-9
2012-8-10
Hirosaki City
---
Not detected
(<15.0)
Not detected
(<10.0)
2012-5-10
2012-5-16
Goshogawara City
---
Not detected
(<15.0)
Not detected
(<10.0)
2012-4-12
2012-4-26
Hirosaki City
---
Not detected
(<15.0)
Not detected
(<10.0)
2012-4-21
2012-4-25
Hirosaki City
---
Not detected
(<15.0)
Not detected
(<10.0)
2012-4-21
2012-4-25
Hirakawa City
---
Not detected
(<15.0)
Not detected
(<10.0)
2012-4-23
2012-4-25
Goshogawara City
Not detected
(<20.0)
Not detected
(<25.0)
Not detected
(<20.0)
2012-3-22
2012-3-23
Turuta Town
Not detected
(<20.0)
Not detected
(<25.0)
Not detected
(<20.0)
2012-3-22
2012-3-23
Fujisaki Town
Not detected
(<20.0)
Not detected
(<25.0)
Not detected
(<20.0)
2012-3-8
2012-3-15
Tsugaru City
Not detected
(<20.0)
Not detected
(<25.0)
Not detected
(<20.0)
2012-3-12
2012-3-14
Ajigasawa Town
Not detected
(<20.0)
Not detected
(<25.0)
Not detected
(<20.0)
2012-3-12
2012-3-14
Kuroishi City
Not detected
(<20.0)
Not detected
(<25.0)
Not detected
(<20.0)
2012-3-8
2012-3-14
Hirakawa City
Not detected
(<20.0)
Not detected
(<25.0)
Not detected
(<20.0)
2012-3-7
2012-3-14
Hirosaki City
Not detected
(<20.0)
Not detected
(<25.0)
Not detected
(<20.0)
2012-3-7
2012-3-13
Hirosaki City
Not detected
(<20.0)
Not detected
(<25.0)
Not detected
(<20.0)
2012-3-8
2012-3-13
Itayanagi Town
Not detected
(<20.0)
Not detected
(<25.0)
Not detected
(<20.0)
2012-3-5
2012-3-13
Itayanagi Town
Not detected
(<20.0)
Not detected
(<25.0)
Not detected
(<20.0)
2012-3-8
2012-3-13
Hirosaki City
Not detected
(<20.0)
Not detected
(<25.0)
Not detected
(<20.0)
2012-3-7
2012-3-12
Hirosaki City
Not detected
(<20.0)
Not detected
(<25.0)
Not detected
(<20.0)
2012-3-8
2012-3-12
Inakadate Village
Not detected
(<20.0)
Not detected
(<25.0)
Not detected
(<20.0)
2012-3-6
2012-3-8
Kuroishi City
Not detected
(<20.0)
Not detected
(<25.0)
Not detected
(<20.0)
2012-3-6
2012-3-8
Kuroishi City
Not detected
(<20.0)
Not detected
(<25.0)
Not detected
(<20.0)
2012-3-5
2012-3-8
Aomori City
Not detected
(<20.0)
Not detected
(<25.0)
Not detected
(<20.0)
2012-3-6
2012-3-7
Aomori City
Not detected
(<20.0)
Not detected
(<25.0)
Not detected
(<20.0)
2012-3-6
2012-3-7
Hirakawa City
Not detected
(<20.0)
Not detected
(<25.0)
Not detected
(<20.0)
2012-3-1
2012-3-5
Hirakawa City
Not detected
(<20.0)
Not detected
(<25.0)
Not detected
(<20.0)
2012-3-2
2012-3-5
Nishimeya Village
Not detected
(<20.0)
Not detected
(<25.0)
Not detected
(<20.0)
2012-2-29
2012-3-5
Owani Town
Not detected
(<20.0)
Not detected
(<25.0)
Not detected
(<20.0)
2012-2-28
2012-3-2
Hirosaki City
Not detected
(<20.0)
Not detected
(<25.0)
Not detected
(<20.0)
2012-2-29
2012-3-2
Hirosaki City
Not detected
(<20.0)
Not detected
(<25.0)
Not detected
(<20.0)
2012-2-29
2012-3-2
Hirosaki City
Not detected
(<20.0)
Not detected
(<25.0)
Not detected
(<20.0)
2012-2-28
2012-3-2
Hirosaki City
Not detected
(<20.0)
Not detected
(<25.0)
Not detected
(<20.0)
2012-2-28
2012-3-2
Hirosaki City
Not detected
(<20.0)
Not detected
(<25.0)
Not detected
(<20.0)
2012-2-28
2012-3-1
Fujisaki Town
Not detected
(<20.0)
Not detected
(<25.0)
Not detected
(<20.0)
2012-2-14
2012-2-17
Kuroishi City
Not detected
(<20.0)
Not detected
(<25.0)
Not detected
(<20.0)
2012-2-14
2012-2-17
Hirakawa City
Not detected
(<20.0)
Not detected
(<25.0)
Not detected
(<20.0)
2012-2-14
2012-2-16
Hirosaki City
Not detected
(<20.0)
Not detected
(<25.0)
Not detected
(<20.0)
2012-2-14
2012-2-16
Ajigasawa Town
Not detected
(<20.0)
Not detected
(<25.0)
Not detected
(<20.0)
2012-2-13
2012-2-16
Tsugaru City
Not detected
(<20.0)
Not detected
(<25.0)
Not detected
(<20.0)
2012-2-13
2012-2-16
Hirosaki City
Not detected
(<20.0)
Not detected
(<25.0)
Not detected
(<20.0)
2012-2-14
2012-2-15
Hirosaki City
Not detected
(<20.0)
Not detected
(<25.0)
Not detected
(<20.0)
2012-2-14
2012-2-15
Hirosaki City
Not detected
(<20.0)
Not detected
(<25.0)
Not detected
(<20.0)
2012-2-14
2012-2-15
Turuta Town
Not detected
(<20.0)
Not detected
(<25.0)
Not detected
(<20.0)
2012-2-9
2012-2-14
Itayanagi Town
Not detected
(<20.0)
Not detected
(<25.0)
Not detected
(<20.0)
2012-2-8
2012-2-14
Itayanagi Town
Not detected
(<20.0)
Not detected
(<25.0)
Not detected
(<20.0)
2012-2-8
2012-2-14
Goshogawara City
Not detected
(<20.0)
Not detected
(<25.0)
Not detected
(<20.0)
2012-2-9
2012-2-14
Hirakawa City
Not detected
(<20.0)
Not detected
(<25.0)
Not detected
(<20.0)
2012-2-8
2012-2-10
Hirakawa City
Not detected
(<20.0)
Not detected
(<25.0)
Not detected
(<20.0)
2012-2-9
2012-2-10
Inakadate Village
Not detected
(<20.0)
Not detected
(<25.0)
Not detected
(<20.0)
2012-2-8
2012-2-10
Kuroishi City
Not detected
(<20.0)
Not detected
(<25.0)
Not detected
(<20.0)
2012-2-8
2012-2-9
Kuroishi City
Not detected
(<20.0)
Not detected
(<25.0)
Not detected
(<20.0)
2012-2-7
2012-2-9
Aomori City
Not detected
(<20.0)
Not detected
(<25.0)
Not detected
(<20.0)
2012-2-8
2012-2-8
Aomori City
Not detected
(<20.0)
Not detected
(<25.0)
Not detected
(<20.0)
2012-2-8
2012-2-8
Hirosaki City
Not detected
(<20.0)
Not detected
(<25.0)
Not detected
(<20.0)
2012-2-2
2012-2-6
Hirosaki City
Not detected
(<20.0)
Not detected
(<25.0)
Not detected
(<20.0)
2012-2-2
2012-2-3
Nishimeya Village
Not detected
(<20.0)
Not detected
(<25.0)
Not detected
(<20.0)
2012-1-31
2012-2-3
Owani Town
Not detected
(<20.0)
Not detected
(<25.0)
Not detected
(<20.0)
2012-1-31
2012-2-3
Hirosaki City
Not detected
(<20.0)
Not detected
(<25.0)
Not detected
(<20.0)
2012-1-31
2012-2-3
Hirosaki City
Not detected
(<20.0)
Not detected
(<25.0)
Not detected
(<20.0)
2012-1-31
2012-2-2
Hirosaki City
Not detected
(<20.0)
Not detected
(<25.0)
Not detected
(<20.0)
2012-1-31
2012-2-2
Fujisaki Town
Not detected
(<20.0)
Not detected
(<25.0)
Not detected
(<20.0)
2012-1-16
2012-1-20
Kuroishi City
Not detected
(<20.0)
Not detected
(<25.0)
Not detected
(<20.0)
2012-1-17
2012-1-20
Hirosaki City
Not detected
(<20.0)
Not detected
(<25.0)
Not detected
(<20.0)
2012-1-16
2012-1-20
Hirosaki City
Not detected
(<20.0)
Not detected
(<25.0)
Not detected
(<20.0)
2012-1-17
2012-1-19
Hirosaki City
Not detected
(<20.0)
Not detected
(<25.0)
Not detected
(<20.0)
2012-1-16
2012-1-19
Hirosaki City
Not detected
(<20.0)
Not detected
(<25.0)
Not detected
(<20.0)
2012-1-16
2012-1-19
Hachinohe City
Not detected
(<20.0)
Not detected
(<25.0)
Not detected
(<20.0)
2012-1-17
2012-1-18
Gonohe Town
Not detected
(<20.0)
Not detected
(<25.0)
Not detected
(<20.0)
2012-1-16
2012-1-18
Hirakawa City
Not detected
(<20.0)
Not detected
(<25.0)
Not detected
(<20.0)
2012-1-17
2012-1-18
Hirakawa City
Not detected
(<20.0)
Not detected
(<25.0)
Not detected
(<20.0)
2012-1-16
2012-1-18
Hirakawa City
Not detected
(<20.0)
Not detected
(<25.0)
Not detected
(<20.0)
2012-1-16
2012-1-18
Ajigasawa Town
Not detected
(<20.0)
Not detected
(<25.0)
Not detected
(<20.0)
2012-1-16
2012-1-18
Tsugaru City
Not detected
(<20.0)
Not detected
(<25.0)
Not detected
(<20.0)
2012-1-16
2012-1-18
Turuta Town
Not detected
(<20.0)
Not detected
(<25.0)
Not detected
(<20.0)
2012-1-12
2012-1-17
Itayanagi Town
Not detected
(<20.0)
Not detected
(<25.0)
Not detected
(<20.0)
2012-1-12
2012-1-17
Itayanagi Town
Not detected
(<20.0)
Not detected
(<25.0)
Not detected
(<20.0)
2012-1-12
2012-1-17
Goshogawara City
Not detected
(<20.0)
Not detected
(<25.0)
Not detected
(<20.0)
2012-1-12
2012-1-17
Inakadate Village
Not detected
(<20.0)
Not detected
(<25.0)
Not detected
(<20.0)
2012-1-12
2012-1-16
Kuroishi City
Not detected
(<20.0)
Not detected
(<25.0)
Not detected
(<20.0)
2012-1-12
2012-1-16
Kuroishi City
Not detected
(<20.0)
Not detected
(<25.0)
Not detected
(<20.0)
2012-1-11
2012-1-16
Hirosaki City
Not detected
(<20.0)
Not detected
(<25.0)
Not detected
(<20.0)
2012-1-12
2012-1-13
Hirosaki City
Not detected
(<20.0)
Not detected
(<25.0)
Not detected
(<20.0)
2012-1-12
2012-1-13
Nishimeya Village
Not detected
(<20.0)
Not detected
(<25.0)
Not detected
(<20.0)
2012-1-6
2012-1-12
Hirosaki City
Not detected
(<20.0)
Not detected
(<25.0)
Not detected
(<20.0)
2012-1-5
2012-1-12
Hirosaki City
Not detected
(<20.0)
Not detected
(<25.0)
Not detected
(<20.0)
2012-1-5
2012-1-12
Hirosaki City
Not detected
(<20.0)
Not detected
(<25.0)
Not detected
(<20.0)
2012-1-5
2012-1-12
Sannohe Town
Not detected
(<20.0)
Not detected
(<25.0)
Not detected
(<20.0)
2012-1-6
2012-1-11
Nanbu Town
Not detected
(<20.0)
Not detected
(<25.0)
Not detected
(<20.0)
2012-1-6
2012-1-11
Owani Town
Not detected
(<20.0)
Not detected
(<25.0)
Not detected
(<20.0)
2012-1-6
2012-1-11
Aomori City
Not detected
(<20.0)
Not detected
(<25.0)
Not detected
(<20.0)
2012-1-11
2012-1-11
Aomori City
Not detected
(<20.0)
Not detected
(<25.0)
Not detected
(<20.0)
2012-1-11
2012-1-11
Kuroishi City
Not detected
(<20.0)
Not detected
(<25.0)
Not detected
(<20.0)
2011-12-19
2011-12-26
Hirosaki City
Not detected
(<20.0)
Not detected
(<25.0)
Not detected
(<20.0)
2011-12-19
2011-12-22
Fujisaki Town
Not detected
(<20.0)
Not detected
(<25.0)
Not detected
(<20.0)
2011-12-19
2011-12-22
Nanbu Town
Not detected
(<20.0)
Not detected
(<25.0)
Not detected
(<20.0)
2011-12-20
2011-12-21
Hirakawa City
Not detected
(<20.0)
Not detected
(<25.0)
Not detected
(<20.0)
2011-12-19
2011-12-21
Hirosaki City
Not detected
(<20.0)
Not detected
(<25.0)
Not detected
(<20.0)
2011-12-19
2011-12-21
Hirosaki City
Not detected
(<20.0)
Not detected
(<25.0)
Not detected
(<20.0)
2011-12-19
2011-12-20
Hirosaki City
Not detected
(<20.0)
Not detected
(<25.0)
Not detected
(<20.0)
2011-12-19
2011-12-20
Hachinohe City
Not detected
(<20.0)
Not detected
(<25.0)
Not detected
(<20.0)
2011-12-12
2011-12-14
Gonohe Town
Not detected
(<20.0)
Not detected
(<25.0)
Not detected
(<20.0)
2011-12-10
2011-12-14
Turuta Town
Not detected
(<20.0)
Not detected
(<25.0)
Not detected
(<20.0)
2011-12-8
2011-12-14
Itayanagi Town
Not detected
(<20.0)
Not detected
(<25.0)
Not detected
(<20.0)
2011-12-2
2011-12-14
Itayanagi Town
Not detected
(<20.0)
Not detected
(<25.0)
Not detected
(<20.0)
2011-12-6
2011-12-13
Goshogawara City
Not detected
(<20.0)
Not detected
(<25.0)
Not detected
(<20.0)
2011-12-8
2011-12-13
Inakadate Village
Not detected
(<20.0)
Not detected
(<25.0)
Not detected
(<20.0)
2011-12-9
2011-12-12
Kuroishi City
Not detected
(<20.0)
Not detected
(<25.0)
Not detected
(<20.0)
2011-12-9
2011-12-12
Kuroishi City
Not detected
(<20.0)
Not detected
(<25.0)
Not detected
(<20.0)
2011-12-9
2011-12-12
Hirosaki City
Not detected
(<20.0)
Not detected
(<25.0)
Not detected
(<20.0)
2011-12-9
2011-12-12
Hirosaki City
Not detected
(<20.0)
Not detected
(<25.0)
Not detected
(<20.0)
2011-12-9
2011-12-12
Hirakawa City
Not detected
(<20.0)
Not detected
(<25.0)
Not detected
(<20.0)
2011-12-8
2011-12-9
Hirakawa City
Not detected
(<20.0)
Not detected
(<25.0)
Not detected
(<20.0)
2011-12-8
2011-12-9
Nishimeya Village
Not detected
(<20.0)
Not detected
(<25.0)
Not detected
(<20.0)
2011-12-1
2011-12-8
Owani Town
Not detected
(<20.0)
Not detected
(<25.0)
Not detected
(<20.0)
2011-12-2
2011-12-8
Hirosaki City
Not detected
(<20.0)
Not detected
(<25.0)
Not detected
(<20.0)
2011-12-2
2011-12-8
Hirosaki City
Not detected
(<20.0)
Not detected
(<25.0)
Not detected
(<20.0)
2011-12-2
2011-12-8
Hirosaki City
Not detected
(<20.0)
Not detected
(<25.0)
Not detected
(<20.0)
2011-12-1
2011-12-8
Sannohe Town
Not detected
(<20.0)
Not detected
(<25.0)
Not detected
(<20.0)
2011-12-5
2011-12-7
Nanbu Town
Not detected
(<20.0)
Not detected
(<25.0)
Not detected
(<20.0)
2011-12-5
2011-12-7
Aomori City
Not detected
(<20.0)
Not detected
(<25.0)
Not detected
(<20.0)
2011-12-7
2011-12-7
Aomori City
Not detected
(<20.0)
Not detected
(<25.0)
Not detected
(<20.0)
2011-12-7
2011-12-7
Ajigasawa Town
Not detected
(<20.0)
Not detected
(<25.0)
Not detected
(<20.0)
2011-12-5
2011-12-7
Tsugaru City
Not detected
(<20.0)
Not detected
(<25.0)
Not detected
(<20.0)
2011-12-5
2011-12-6
Owani Town
Not detected
(<20.0)
Not detected
(<25.0)
Not detected
(<20.0)
2011-11-10
2011-11-16
Owani Town
Not detected
(<20.0)
Not detected
(<25.0)
Not detected
(<20.0)
2011-11-10
2011-11-16
Nanbu Town
Not detected
(<20.0)
Not detected
(<25.0)
Not detected
(<20.0)
2011-11-15
2011-11-16
Hachinohe City
Not detected
(<20.0)
Not detected
(<25.0)
Not detected
(<20.0)
2011-11-9
2011-11-11
Aomori City
Not detected
(<20.0)
Not detected
(<25.0)
Not detected
(<20.0)
2011-11-10
2011-11-10
Hirosaki City
Not detected
(<20.0)
Not detected
(<25.0)
Not detected
(<20.0)
2011-11-4
2011-11-10
Aomori City
Not detected
(<20.0)
Not detected
(<25.0)
Not detected
(<20.0)
2011-11-10
2011-11-10
Hirosaki City
Not detected
(<20.0)
Not detected
(<25.0)
Not detected
(<20.0)
2011-11-4
2011-11-9
Hirosaki City
Not detected
(<20.0)
Not detected
(<25.0)
Not detected
(<20.0)
2011-11-4
2011-11-9
Hirosaki City
Not detected
(<20.0)
Not detected
(<25.0)
Not detected
(<20.0)
2011-11-4
2011-11-9
Inakadate Village
Not detected
(<20.0)
Not detected
(<25.0)
Not detected
(<20.0)
2011-11-4
2011-11-9
Kuroishi City
Not detected
(<20.0)
Not detected
(<25.0)
Not detected
(<20.0)
2011-11-4
2011-11-9
Kuroishi City
Not detected
(<20.0)
Not detected
(<25.0)
Not detected
(<20.0)
2011-11-4
2011-11-8
Hirosaki City
Not detected
(<20.0)
Not detected
(<25.0)
Not detected
(<20.0)
2011-11-7
2011-11-8
Hirosaki City
Not detected
(<20.0)
Not detected
(<25.0)
Not detected
(<20.0)
2011-11-7
2011-11-8
Nishimeya Village
Not detected
(<20.0)
Not detected
(<25.0)
Not detected
(<20.0)
2011-11-2
2011-11-7
Hirakawa City
Not detected
(<20.0)
Not detected
(<25.0)
Not detected
(<20.0)
2011-11-1
2011-11-7
Hirakawa City
Not detected
(<20.0)
Not detected
(<25.0)
Not detected
(<20.0)
2011-11-1
2011-11-7
Hirosaki City
Not detected
(<20.0)
Not detected
(<25.0)
Not detected
(<20.0)
2011-11-4
2011-11-7
Fujisaki Town
Not detected
(<20.0)
Not detected
(<25.0)
Not detected
(<20.0)
2011-10-28
2011-11-2
Hirakawa City
Not detected
(<20.0)
Not detected
(<25.0)
Not detected
(<20.0)
2011-11-1
2011-11-2
Hirosaki City
Not detected
(<20.0)
Not detected
(<25.0)
Not detected
(<20.0)
2011-10-28
2011-11-2
Hirosaki City
Not detected
(<20.0)
Not detected
(<25.0)
Not detected
(<20.0)
2011-10-28
2011-11-2
Fujisaki Town
Not detected
(<20.0)
Not detected
(<25.0)
Not detected
(<20.0)
2011-10-28
2011-11-1
Kuroishi City
Not detected
(<20.0)
Not detected
(<25.0)
Not detected
(<20.0)
2011-10-31
2011-11-1
Shichinohe Town
Not detected
(<20.0)
Not detected
(<25.0)
Not detected
(<20.0)
2011-10-31
2011-11-1
Towada City
Not detected
(<20.0)
Not detected
(<25.0)
Not detected
(<20.0)
2011-10-31
2011-11-1
Ajigasawa Town
Not detected
(<20.0)
Not detected
(<25.0)
Not detected
(<20.0)
2011-10-25
2011-10-28
Tsugaru City
Not detected
(<20.0)
Not detected
(<25.0)
Not detected
(<20.0)
2011-10-27
2011-10-28
Gonohe Town
Not detected
(<20.0)
Not detected
(<25.0)
Not detected
(<20.0)
2011-10-27
2011-10-28
Sannohe Town
Not detected
(<20.0)
Not detected
(<25.0)
Not detected
(<20.0)
2011-10-27
2011-10-28
Hachinohe City
Not detected
(<20.0)
Not detected
(<25.0)
Not detected
(<20.0)
2011-10-25
2011-10-26
Nanbu Town
Not detected
(<20.0)
Not detected
(<25.0)
Not detected
(<20.0)
2011-10-21
2011-10-26
Aomori City
Not detected
(<20.0)
Not detected
(<25.0)
Not detected
(<20.0)
2011-10-25
2011-10-26
Turuta Town
Not detected
(<20.0)
Not detected
(<25.0)
Not detected
(<20.0)
2011-10-24
2011-10-25
Turuta Town
Not detected
(<20.0)
Not detected
(<25.0)
Not detected
(<20.0)
2011-10-24
2011-10-25
Itayanagi Town
Not detected
(<20.0)
Not detected
(<25.0)
Not detected
(<20.0)
2011-10-24
2011-10-25
Itayanagi Town
Not detected
(<20.0)
Not detected
(<25.0)
Not detected
(<20.0)
2011-10-24
2011-10-25
Goshogawara City
Not detected
(<20.0)
Not detected
(<25.0)
Not detected
(<20.0)
2011-10-20
2011-10-25
Goshogawara City
Not detected
(<20.0)
Not detected
(<25.0)
Not detected
(<20.0)
2011-10-20
2011-10-25
Nanbu Town
Not detected
(<20.0)
Not detected
(<25.0)
Not detected
(<20.0)
2011-10-21
2011-10-24
Nishimeya Village
Not detected
(<20.0)
Not detected
(<25.0)
Not detected
(<20.0)
2011-10-19
2011-10-24
Inakadate Village
Not detected
(<20.0)
Not detected
(<25.0)
Not detected
(<20.0)
2011-10-20
2011-10-24
Owani Town
Not detected
(<20.0)
Not detected
(<25.0)
Not detected
(<20.0)
2011-10-20
2011-10-24
Owani Town
Not detected
(<20.0)
Not detected
(<25.0)
Not detected
(<20.0)
2011-10-20
2011-10-24
Ajigasawa Town
Not detected
(<20.0)
Not detected
(<25.0)
Not detected
(<20.0)
2011-10-18
2011-10-21
Tsugaru City
Not detected
(<20.0)
Not detected
(<25.0)
Not detected
(<20.0)
2011-10-18
2011-10-21
Hirosaki City
Not detected
(<20.0)
Not detected
(<25.0)
Not detected
(<20.0)
2011-10-13
2011-10-19
Hirosaki City
Not detected
(<20.0)
Not detected
(<25.0)
Not detected
(<20.0)
2011-10-13
2011-10-19
Hirosaki City
Not detected
(<20.0)
Not detected
(<25.0)
Not detected
(<20.0)
2011-10-13
2011-10-19
Hirosaki City
Not detected
(<20.0)
Not detected
(<25.0)
Not detected
(<20.0)
2011-10-13
2011-10-19
Hirosaki City
Not detected
(<20.0)
Not detected
(<25.0)
Not detected
(<20.0)
2011-10-13
2011-10-19
Hirosaki City
Not detected
(<20.0)
Not detected
(<25.0)
Not detected
(<20.0)
2011-10-14
2011-10-19
Towada City
Not detected
(<20.0)
Not detected
(<25.0)
Not detected
(<20.0)
2011-10-17
2011-10-18
Hirosaki City
Not detected
(<20.0)
Not detected
(<25.0)
Not detected
(<20.0)
2011-10-14
2011-10-18
Hirosaki City
Not detected
(<20.0)
Not detected
(<25.0)
Not detected
(<20.0)
2011-10-12
2011-10-18
Hirosaki City
Not detected
(<20.0)
Not detected
(<25.0)
Not detected
(<20.0)
2011-10-12
2011-10-18
Turuta Town
Not detected
(<20.0)
Not detected
(<25.0)
Not detected
(<20.0)
2011-10-11
2011-10-18
Gonohe Town
Not detected
(<20.0)
Not detected
(<25.0)
Not detected
(<20.0)
2011-10-14
2011-10-17
Turuta Town
Not detected
(<20.0)
Not detected
(<25.0)
Not detected
(<20.0)
2011-10-11
2011-10-17
Itayanagi Town
Not detected
(<20.0)
Not detected
(<25.0)
Not detected
(<20.0)
2011-10-11
2011-10-17
Itayanagi Town
Not detected
(<20.0)
Not detected
(<25.0)
Not detected
(<20.0)
2011-10-11
2011-10-17
Sannohe Town
Not detected
(<20.0)
Not detected
(<25.0)
Not detected
(<20.0)
2011-10-11
2011-10-14
Goshogawara City
Not detected
(<20.0)
Not detected
(<25.0)
Not detected
(<20.0)
2011-10-13
2011-10-14
Goshogawara City
Not detected
(<20.0)
Not detected
(<25.0)
Not detected
(<20.0)
2011-10-13
2011-10-14
Fujisaki Town
Not detected
(<20.0)
Not detected
(<25.0)
Not detected
(<20.0)
2011-10-11
2011-10-13
Fujisaki Town
Not detected
(<20.0)
Not detected
(<25.0)
Not detected
(<20.0)
2011-10-11
2011-10-13
Hirakawa City
Not detected
(<20.0)
Not detected
(<25.0)
Not detected
(<20.0)
2011-10-7
2011-10-12
Hirakawa City
Not detected
(<20.0)
Not detected
(<25.0)
Not detected
(<20.0)
2011-10-7
2011-10-11
Aomori City
Not detected
(<20.0)
Not detected
(<25.0)
Not detected
(<20.0)
2011-10-6
2011-10-7
Aomori City
Not detected
(<20.0)
Not detected
(<25.0)
Not detected
(<20.0)
2011-10-6
2011-10-7
Aomori City
Not detected
(<20.0)
Not detected
(<25.0)
Not detected
(<20.0)
2011-10-6
2011-10-7
Kuroishi City
Not detected
(<20.0)
Not detected
(<25.0)
Not detected
(<20.0)
2011-10-3
2011-10-5
Kuroishi City
Not detected
(<20.0)
Not detected
(<25.0)
Not detected
(<20.0)
2011-10-3
2011-10-5
Kuroishi City
Not detected
(<20.0)
Not detected
(<25.0)
Not detected
(<20.0)
2011-10-3
2011-10-5
Hirakawa City
Not detected
(<20.0)
Not detected
(<25.0)
Not detected
(<20.0)
2011-10-4
2011-10-5
Nanbu Town
Not detected
(<20.0)
Not detected
(<25.0)
Not detected
(<20.0)
2011-9-29
2011-10-3
Nanbu Town
Not detected
(<20.0)
Not detected
(<25.0)
Not detected
(<20.0)
2011-9-29
2011-9-30
Hirosaki City
Not detected
(<20.0)
Not detected
(<25.0)
Not detected
(<20.0)
2011-9-22
2011-9-27
Owani Town
Not detected
(<20.0)
Not detected
(<25.0)
Not detected
(<20.0)
2011-9-21
2011-9-26
Fujisaki Town
Not detected
(<20.0)
Not detected
(<25.0)
Not detected
(<20.0)
2011-9-21
2011-9-26
Hirosaki City
Not detected
(<20.0)
Not detected
(<25.0)
Not detected
(<20.0)
2011-9-15
2011-9-22
Kuroishi City
Not detected
(<20.0)
Not detected
(<25.0)
Not detected
(<20.0)
2011-9-20
2011-9-21
Kuroishi City
Not detected
(<20.0)
Not detected
(<25.0)
Not detected
(<20.0)
2011-9-20
2011-9-21
Hirosaki City
Not detected
(<20.0)
Not detected
(<25.0)
Not detected
(<20.0)
2011-9-15
2011-9-21
Hirosaki City
Not detected
(<20.0)
Not detected
(<25.0)
Not detected
(<20.0)
2011-9-16
2011-9-21
Hirosaki City
Not detected
(<20.0)
Not detected
(<25.0)
Not detected
(<20.0)
2011-9-16
2011-9-21
Aomori City
Not detected
(<20.0)
Not detected
(<25.0)
Not detected
(<20.0)
2011-9-15
2011-9-15
Aomori City
Not detected
(<20.0)
Not detected
(<25.0)
Not detected
(<20.0)
2011-9-15
2011-9-15
Owani Town
Not detected
(<20.0)
Not detected
(<25.0)
Not detected
(<20.0)
2011-9-13
2011-9-14
Hirosaki City
Not detected
(<20.0)
Not detected
(<25.0)
Not detected
(<20.0)
2011-9-13
2011-9-14
Towada City
Not detected
(<20.0)
Not detected
(<25.0)
Not detected
(<20.0)
2011-9-12
2011-9-13
Gonohe Town
Not detected
(<20.0)
Not detected
(<25.0)
Not detected
(<20.0)
2011-9-9
2011-9-12
Fujisaki Town
Not detected
(<20.0)
Not detected
(<25.0)
Not detected
(<20.0)
2011-9-8
2011-9-12
Hirakawa City
Not detected
(<20.0)
Not detected
(<25.0)
Not detected
(<20.0)
2011-9-8
2011-9-12
Hirakawa City
Not detected
(<20.0)
Not detected
(<25.0)
Not detected
(<20.0)
2011-9-8
2011-9-12
Hirakawa City
Not detected
(<20.0)
Not detected
(<25.0)
Not detected
(<20.0)
2011-9-8
2011-9-12
Hirosaki City
Not detected
(<20.0)
Not detected
(<25.0)
Not detected
(<20.0)
2011-9-8
2011-9-12
Turuta Town
Not detected
(<20.0)
Not detected
(<25.0)
Not detected
(<20.0)
2011-9-8
2011-9-9
Turuta Town
Not detected
(<20.0)
Not detected
(<25.0)
Not detected
(<20.0)
2011-9-8
2011-9-9
Itayanagi Town
Not detected
(<20.0)
Not detected
(<25.0)
Not detected
(<20.0)
2011-9-8
2011-9-9
Tsugaru City
Not detected
(<20.0)
Not detected
(<25.0)
Not detected
(<20.0)
2011-9-8
2011-9-8
Kuroishi City
Not detected
(<20.0)
Not detected
(<25.0)
Not detected
(<20.0)
2011-9-6
2011-9-8
Hirosaki City
Not detected
(<20.0)
Not detected
(<25.0)
Not detected
(<20.0)
2011-8-31
2011-9-8
Hachinohe City
Not detected
(<20.0)
Not detected
(<25.0)
Not detected
(<20.0)
2011-9-6
2011-9-7
Inakadate Village
Not detected
(<20.0)
Not detected
(<25.0)
Not detected
(<20.0)
2011-9-6
2011-9-7
Nishimeya Village
Not detected
(<20.0)
Not detected
(<25.0)
Not detected
(<20.0)
2011-9-5
2011-9-7
Ajigasawa Town
Not detected
(<20.0)
Not detected
(<25.0)
Not detected
(<20.0)
2011-9-5
2011-9-6
Sannohe Town
Not detected
(<20.0)
Not detected
(<25.0)
Not detected
(<20.0)
2011-9-2
2011-9-5
Goshogawara City
Not detected
(<20.0)
Not detected
(<25.0)
Not detected
(<20.0)
2011-9-1
2011-9-2
Goshogawara City
Not detected
(<20.0)
Not detected
(<25.0)
Not detected
(<20.0)
2011-9-1
2011-9-2
Itayanagi Town
Not detected
(<20.0)
Not detected
(<25.0)
Not detected
(<20.0)
2011-9-1
2011-9-1
Aomori City
Not detected
(<20.0)
Not detected
(<25.0)
Not detected
(<20.0)
2011-9-1
2011-9-1
Nanbu Town
Not detected
(<20.0)
Not detected
(<25.0)
Not detected
(<20.0)
2011-8-31
2011-9-1
Hirosaki City
Not detected
(<20.0)
Not detected
(<25.0)
Not detected
(<20.0)
2011-8-31
2011-9-1
[Extracted from the results of the survey on the radioactive materials of Aomori Agriculture, Forestry and Fishery Products (English)]