Apple and asparagus "Koro Koro" salad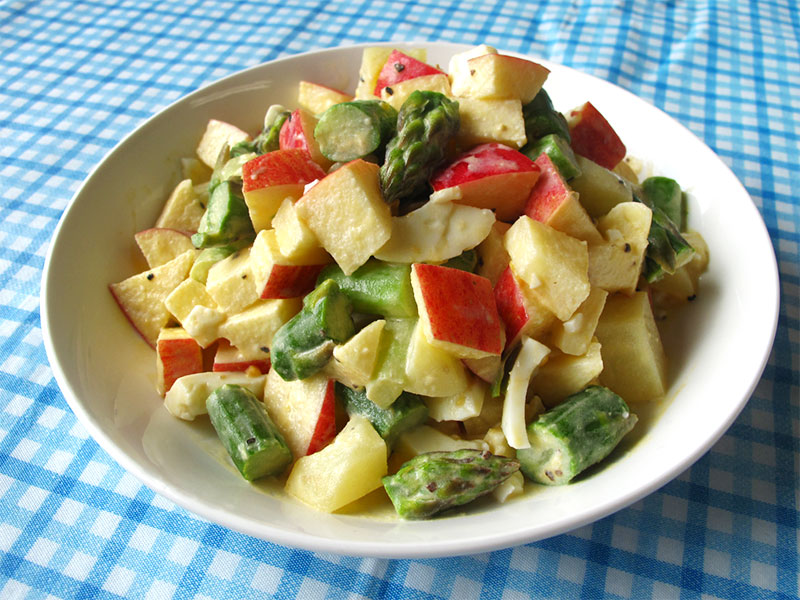 The red and green are vivid to the eye. The yogurt dressing has a smooth mouthfeel.
Ingredients for 4 persons
Apple 1
Asparagus 2 bunches
Potato 1
Egg 1
Mayonnaise 2 tbsp
Plain yogurt 1 tsp
Kneaded mustard 1/2 tbsp
Salt a little
Coarsely ground pepper a little
Instructions
1.
Dice the apples 1.5 cm with the core and skin and expose them to salt water.
2.
Boil the asparagus in good color and cut it into 1.5 cm rings. Boil the potatoes peeled and cut into 1.5 cm squares.
3.
Boil the egg hard, peel it, divide it into yolks and whites, and cut the whites into 1.5cm squares.
4.
Make dressings. Mix the mayonnaise, yogurt, mustard and yolks well, and season with salt and coarsely ground pepper.
5.
Put the cut apples and vegetables in a bowl made of dressing, mix lightly, and then serve.
Tips!
If you match the size of apples and vegetables as much as possible, they will look beautiful and easy to eat.
Speaking of asparagus, "aspartic acid" and "rutin".Aspartic acid, a type of amino acid, has the effect of accelerating metabolism and restoring fatigue. Rutin strengthens capillaries, so it helps prevent hypertension and arteriosclerosis. Apples have a similar function, so if you combine them, you can expect more effect.
Keep your body healthy with the strongest tag of apples and asparagus.