A girl with bright red apples and red lips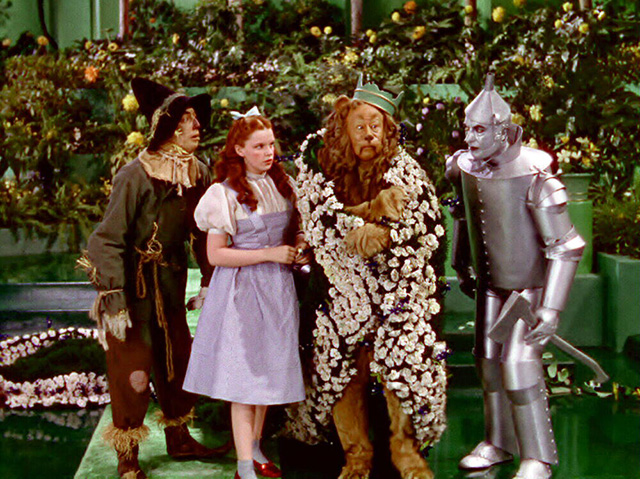 ■The 1939 movie "The wonderful wizard of Oz" and the Apple Tree
That was when I first saw the movie The wonderful wizard of Oz, which was made in 1939. As soon as the main character, Dorothy, passed through the sepia storm, a world full of colors awaited. Along with Dorothy, who was stunned by the scenery she had never seen, I was also stunned by the sudden appearance of the feast of colors. This fairy tale, in which 10-year-old Dorothy accidentally wanders into the magical land of Oz, has been loved by many people of all ages, from children's literature to musicals. Kakashi wants a brain. A tin man who wants a heart. A lion who wants courage. And Dorothy, who wants to go home where her beloved family waits, goes on a journey to visit the witch of Oz. In the movie version, Dorothy's life in Kansas was monochrome (sepia) and projected in color in the Land of Oz, devised to make the colorful appearance of the Land of Oz stand out. I was really surprised at the method.
On the way to the Emerald City, where the Wizard of Oz lives, Dorothy meets Kakashi and becomes a traveling companion with him. The two walk while singing cheerfully and eventually encounter a splendidly fruited apple field. Hungry Dorothy is overjoyed and tries to eat an apple, but suddenly an angry voice echoes from somewhere. "Do you think you can do that for free !?" No one hurriedly looked around. I should have heard a voice, but when I suddenly raised my eyes, an apple tree was staring at me. The voice was the apple tree itself. Young Dorothy is just upset by an apple tree that makes her angry, saying, "Who's forgive me to steal someone's things?" "I'm sorry, it looked so good … what should I do when I want to eat an apple?", But the angry trees have no ears to hear. There, Kakashi is smart and deliberately throws provocative words to invite the wrath of the tree. The angry trees throw apples as if to "get away quickly". The angry trees throw apples as if to "get away quickly".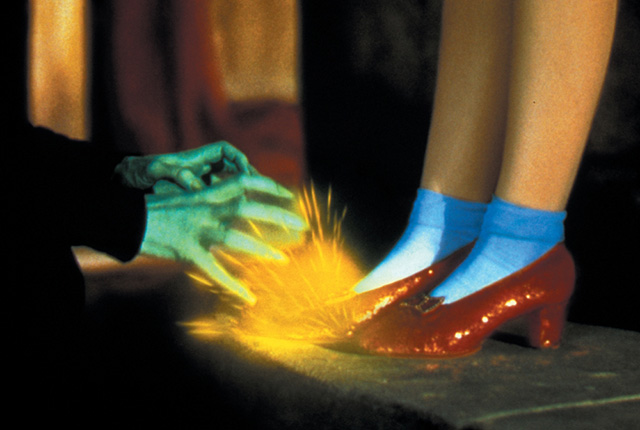 This is the only scene in which an apple appears in "The wonderful wizard of Oz". Still, it's probably because of the color that the plump apples leave a strong impression. Red, blue, green, yellow, bright colors are everywhere. The witch of Oz lives in a city covered in emerald green. Dorothy and his friends walk on a yellow brick road. Dorothy's legs in a light blue dress are ruby's red shoes. Dorothy and his friends are targeted by the witches of the west because they wore them with magic shoes that they had inadvertently stolen from the witches of the east who had inadvertently placed them under the house. The bright red lipstick that covers Dorothy's lips is also impressive. If an apple that shines brightly appears in such a gorgeous world, it seems that even if you are not Dorothy, you will reach out unintentionally.
■Biographical film "Judy"
By the way, the story changes, and it is the 92nd (February 2020) Academy Awards ceremony.
Although the award ceremony was very exciting with the four-crown victory(Academy Award for Best Picture,Academy Award for Directing,Academy Award for Writing Original Screenplay,Academy Award for International Feature Film) of the Korean movie "Parasite", It was not "Parasite" but Renée Zellweger who starred in the biographical film "Judy" that won the leading actress award. "Judy" is a biographical film of Judy Garland, a movie actress and singer. Judy, who made her debut as a child actor and worked for more than 40 years until she died at the young age of 47 in 1969, the story highlights her tour in London in the winter of 1968, six months before her death. The work that made Judy Garland's name so famous was "The wonderfu wizard of Oz".
She plays the role of Dorothy and is famous as a famous child actor who can sing and dance in Hollywood. Since then, he has appeared in numerous hits such as "Meet Me in St. Louis" (1944), "The Pirate" (1948), and "Easter Parade" (1948). In "A Star Is Born" (1954), he was nominated for the Academy Award for Best Actress, but he was not selected. However, his acting ability was praised by the people around him (this work was remade as "A Star Is Born" starring Lady Gaga the other day). On the other hand, she has always been infamous. The cause is a habit of being late and a habit of wasting money. Five marriages may have spurred bad rumors. Eventually she was abandoned by the movie company, but she made use of her singing ability and found a way out for tours and concerts in her later years. It is a deep-rooted fan from the movie era who supported her who was exhausted both physically and mentally. Judy also continued to give fans great hope. Extremely popular with homosexuals, she is still a symbol of the sexual minority group.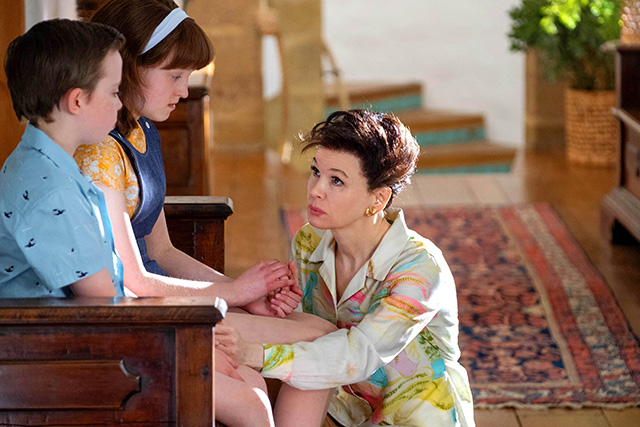 Judy, played by Renée Zellweger, known for his hits such as Bridget Jones's Diary (2001), looks terribly tired from the beginning. Rumors of heartless surroundings. One-sided debt. Conflict with ex-husband over custody of beloved children. With various problems leaning on her small, lean body, she agrees to go on a tour in London. If you make money here, you should be able to buy a house and live a calm life with your children. With that hope in mind, she heads to London alone. But things don't go so well. Judy, who started his tour in London, fascinates the audience with his overwhelming performance, but his originally unstable mental state worsens. Relying on medicine and alcohol, the habit of being late again reappears. Rosalin, who was appointed as a caretaker, watches over the situation, sometimes worried and sometimes frustrated.
■"The wonderful wizard of Oz" depicted in "Judy"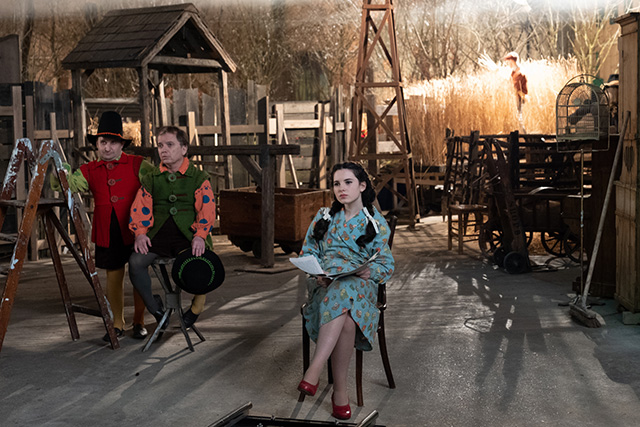 Occasionally, Judy's youthful episodes are inserted in this film, which is basically tour time-centric. The most eye-catching event was the shooting of "The wondeful wizard of Oz," which appeared at the age of 16. However, the episode of "The wonderfulewWizard of Oz" depicted in "Judy" is miserable. In fact, it is said that Shirley Temple, who was already a star child actor, was originally planned for the role of Dorothy played by Judy. You're not as cute or singing as Shirley, and you're overweight, but you've given him such a good role, so now you're working hard for us. Judy has been told such a terrible thing by the president of a movie company. It is a well-known story that she has been taking drugs since she was a teenager because of her diet and overwork, and she suffered from it later.
A girl wearing bright red ruby shoes and wearing cute pigtails doesn't look happy at all in the glittering movie world. Young Judy always swims anxiously. Please let me lie down a little more. Eat rice as you like. Let me choose as much as my friends. Even such a small wish is crushed for the convenience of adults. The girl has no choice but to accumulate unfocused anger and sadness alone. As an adult, Judy continues to suffer from the anger and sadness he has accumulated over the years. Behind such a cheerful, happy and colorful fairy tale, there was such a cruel story hidden. Judy is hurt and exhausted by unreasonable eyes. Perhaps the minority people enthusiastically supported her because she deeply sympathized with her cruel fate, which was robbed of her life by others. Because they too are those whose lives have been robbed by others.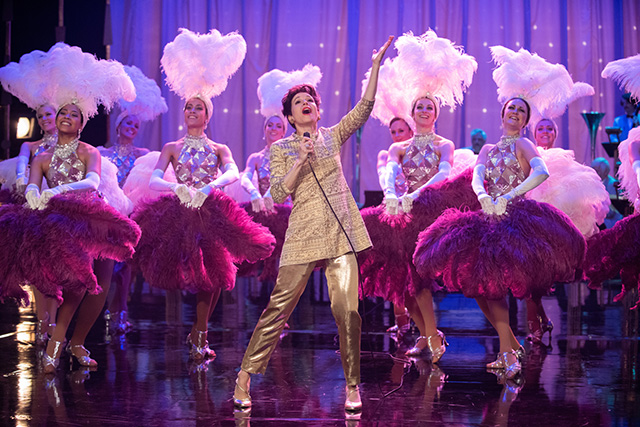 Judy, who was hurt and ragged, still stood up and sang a powerful singing voice on the stage. What connects her to her fans is a strong bond and "Over the Rainbow". It's a song that Judy sang in "The wonderful wizard of Oz". She sings that everyone could be happy somewhere other than here. At the end of The wonderful wizard of Oz, Dorothy realizes that there was happiness here, not "somewhere else." In the same way, could Judy also find the happiness that is here now? The answer was to watch the movie, and Judy's lips were still shining bright red.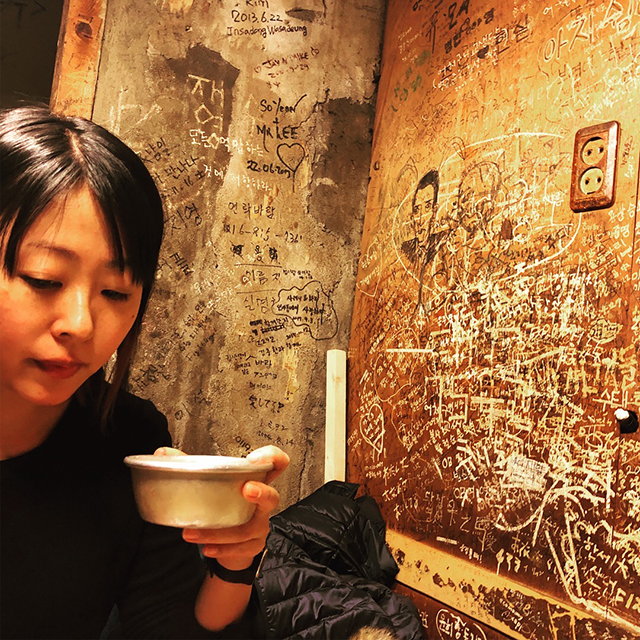 Rie Tsukinaga
Editor and writer. Book and magazine, "Eiga Sakaba", "Eiga Yokocho", editor and writer. After graduation of university, while workiing at small publisher, writing movie comment and editing leaflet because of loving movie.
Acting freelance after retiring the company.
Originally from Aomori prefecture, currently living in Tokyo


Apple University is a virtual university where you can learn many things about apples in a fun way. ⇒ 
Click here to go to the site.