"Apple university kitchen" offers recipe using apple.
Recipes to be introduced this time is "Entirely apple cookies".
It is a cookie with a very savory flavor that is kneaded with apple skin, and the texture of the skin is also an accent.
It looks cute and is recommended as a gift.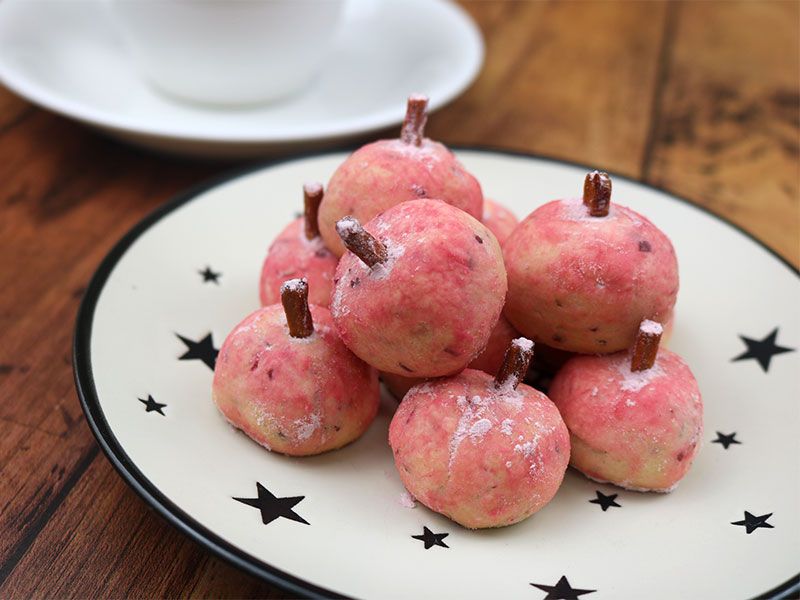 Entirely apple cookies
■Ingredients (24 pieces)
・Apple skin 1 whole apple
・cake flour 150g
・sugar 30g
・butter 60g
・pretzels 4
・powdered sugar and food coloring appropriate amount
■Instructions

Preparation
・Bring the butter to room temperature.
・Sift the cake flour.
1. Pretzels divide one into six. Mix powdered sugar and food coloring.
2. Peel and chop the apples.
3. Cream the butter that has been warmed to room temperature with a whisk, add sugar and mix further.
4. Put chopped apple skin(step 2), mix well
5. Add the sifted flour and mix. When the powder is gone, knead it lightly by hand and put it together. Preheat the oven to 160 ° C.
6. Divide the dough into 24 equal parts, shape them into a round shape, insert a pretzel, and bake in an oven heated to 160 ° C for 30 to 35 minutes.
7. After baking, when the heat is removed, sprinkle with powdered sugar containing food coloring to complete.
(If you sprinkle it with powdered sugar and then stroke it by hand, it will have a beautiful red color.)
Recommendation
Since food coloring is easy to color on your hands, it is recommended to wear gloves when stroking the sprinkled powdered sugar by hand.
There are other recipe using apple on this website.
Please check it out "Apple university kitchen".

"Entirely apple cookies" in "Apple university kitchen" is here.


Apple University is a virtual university where you can learn many things about apples in a fun way. ⇒ 
Click here to go to the site.