We put plenty of apples in the classic pasta sauce "meat sauce".
The freshness and subtle sweetness are exquisitely delicious! It is an easy-to-use sauce that goes well with not only pasta but also bread, rice, and vegetables.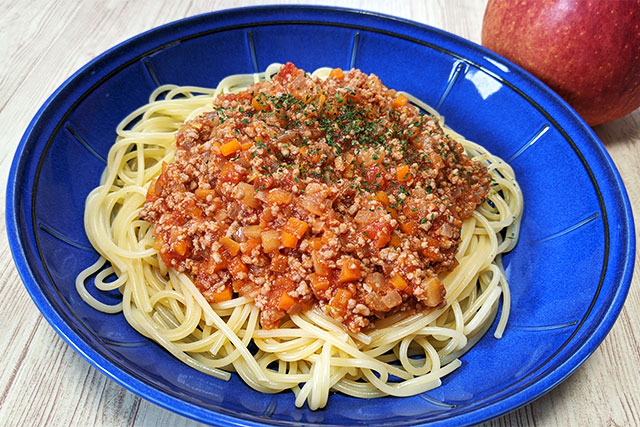 Ground beef sauce with plenty of apples

Ingredients (For four people)
| | |
| --- | --- |
| Apple | 1/2 |
| Ground beef | 400g |
| Onion | 1 |
| Carrot | 1 |
| Diced tomatoes | 1 |
| tomato ketchup | 1 tablespoon |
| Pork cutlet sauce | 4 tablespoon |
| Beef consomme(powder) | 1 tablespoon |
| Salt & pepper | to taste |
| Salted butter | 10g |
(*) If you are difficult to get pork cutlet sauce, please use tomato ketchup 4 or 5 tablespoon
Instructions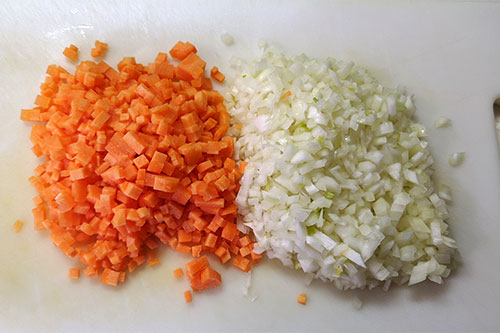 1.
Finely chop the onions and carrots.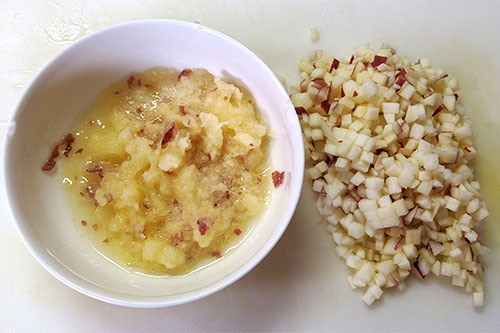 2.
Grate half of the apples with skin and cut the other half into 5mm squares.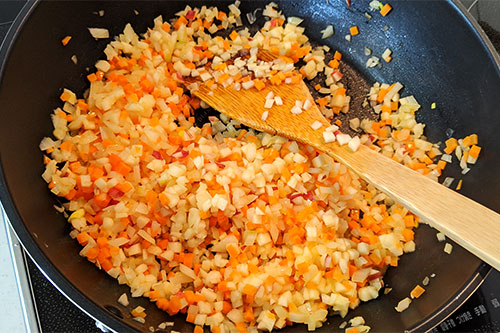 3.
Heat the cooking oil (outside the amount) in a frying pan and fry the onions, carrots, and diced apples.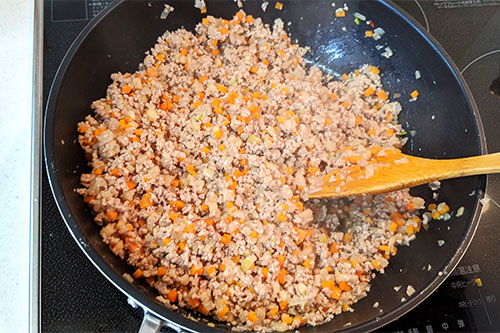 4.
When 3 is cooked to some extent, add minced meat and fry further.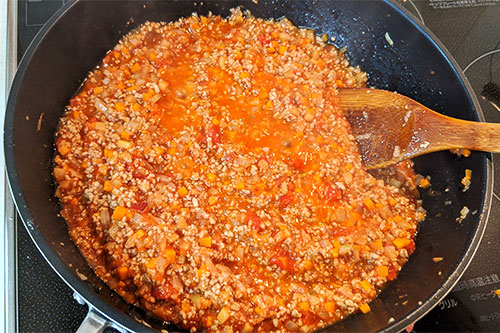 5.
When the color of the ground beef changes, add canned tomatoes, consomme, tomato ketchup, pork cutlet sauce, and grated apples, and simmer for about 5 minutes while mixing.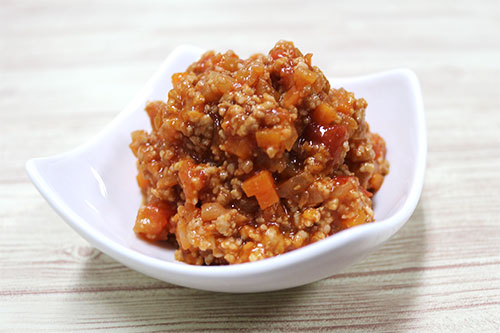 6.
Adjust the taste with salt and pepper, add butter to finish and mix well to complete.
Tips
Do not oversize the diced apples and add grated apples. As a result, the flavor of apples blends well with meat and vegetables, adding depth to the taste.
In addition, the finished butter gives it a rich flavor, and the whole thing comes together ♪
There are other recipe using apple on this website.
Please check it out "Apple university kitchen".

"Ground beef sauce with plenty of apples" in "Apple university kitchen" is here.


Apple University is a virtual university where you can learn many things about apples in a fun way. ⇒ 
Click here to go to the site.