We introduce recipe with apples which high school students in Hirosaki, Aomori developped by their part of the research project.
It is ice box cookies with dried apple.
Outside coating of the cookie is crispy and sweet, and inside is brittle.
It is a cookie that the flavor of the apple spreads in the mouth as you chew and becomes a habit.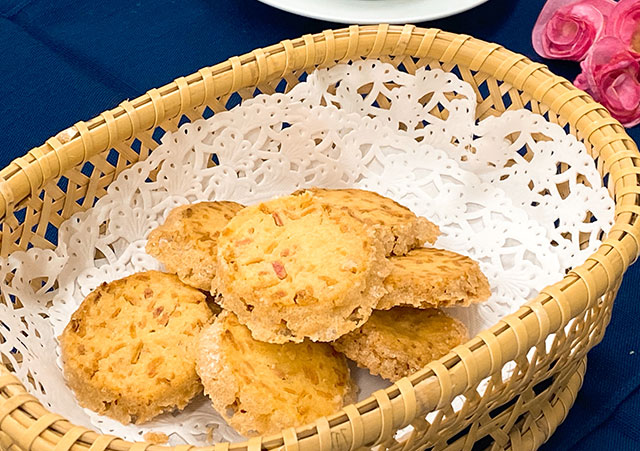 Recipe:

apple chips cookie
Ingredients
★apple chips
 apple 1 piece.
 salt 1 pinch
 water 200ml
☆dough of cookie
 butter 80g
 egg yolk 1
 granulated sugar 40g
 flour 120g
○Coating
 Egg 1
 granulated sugar dosage
Instructions
★Make apple chips
Preparation
Preheat the oven to 100°C.
Make 0.1% salt water in a bowl (200 ml of water, about 0.2 g of a pinch of salt)
1. Take the apple skin and core, slice it into 2 mm thick, and add it to salt water to prevent browning.
2. Wipe off the moisture of the apples with a paper towel, arrange them on a baking board with cooking paper, and dry them in an oven preheated at 100 °C.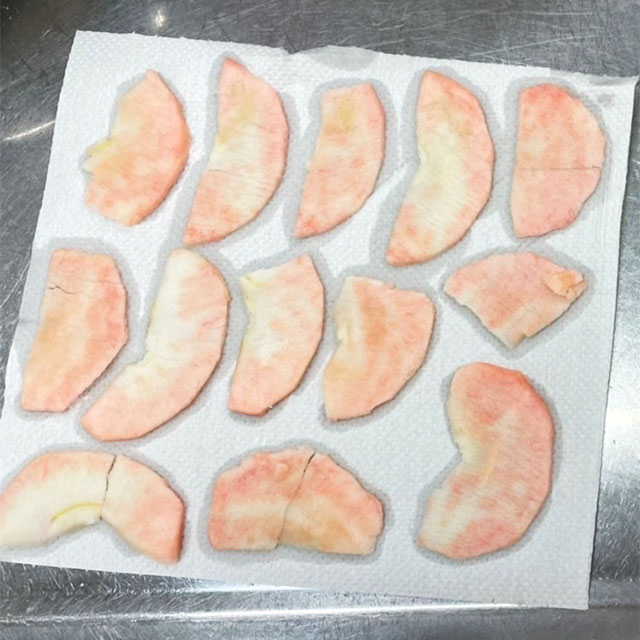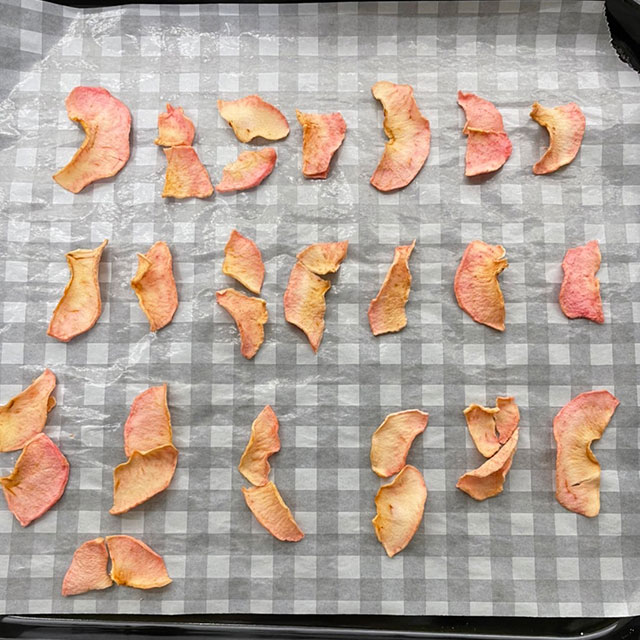 First 60 minutes, turn over 60 minutes.(Adjusting until crisp)
When heated at a high temperature such as 160 ° C., it burns immediately, so it is performed while watching the situation at low temperatures.
☆Make cookie dough
Preparation
Keep the butter back at room temperature.
Sift flour in advance.
1. Put the butter in a bowl, knead well in a whisk, add the granulated sugar and mix quickly.
2. Add the yolks in two installments and mix well each time to make them smooth.
 (*Add egg yolks in two portions to avoid separation of the artifacts of step 1 from the moisture of the yolks.)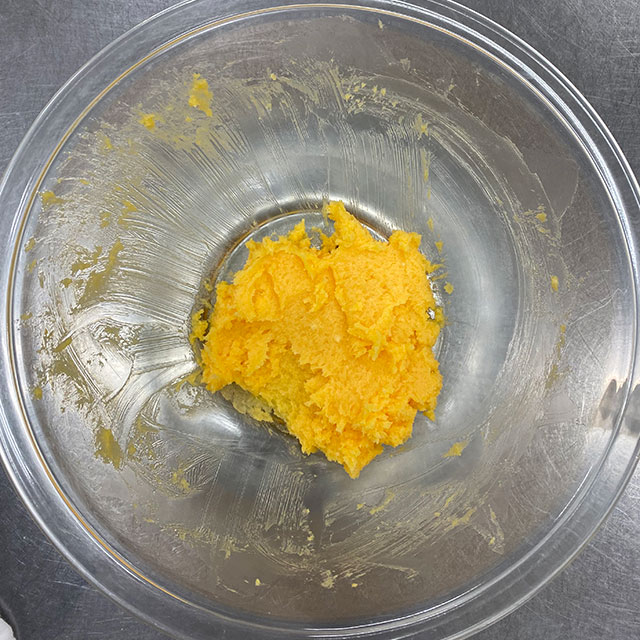 3. Put the apple chips in a plastic bag or the like, beat them with a bean stick, add them to a bowl of 2 and mix.
4. Add the sieving flour and mix it with a rubber ber.(*A little powdery remains.)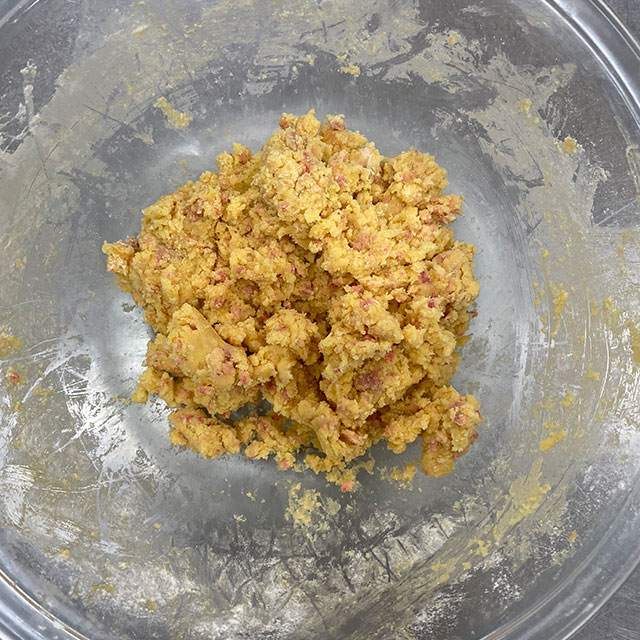 5. Put the dough into a wrap, put it in a stick about 3 cm in diameter, and cool in the freezer for more than 2 hours.(Easy to put together in a stick shape by using a clear file.)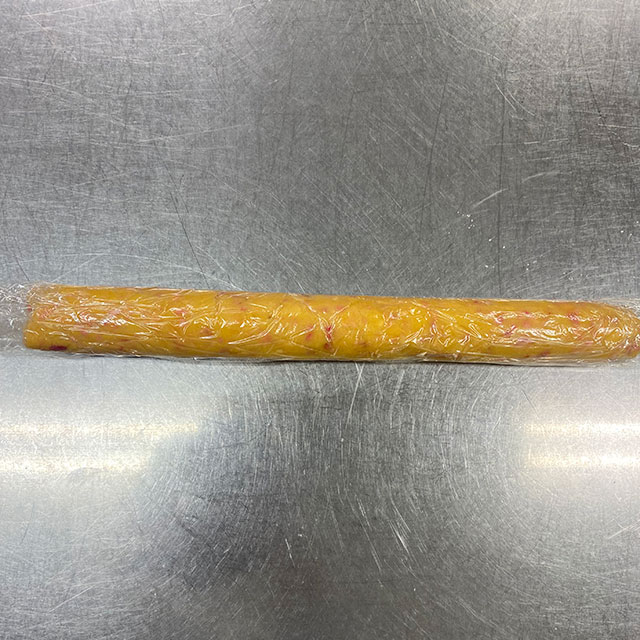 ○Bake cookies
1. Preheat the oven to 160C.
2. The beaten egg and the granulated sugar are put in the vat respectively, and it puts it on the dough in the order of the beaten egg and the granulated sugar.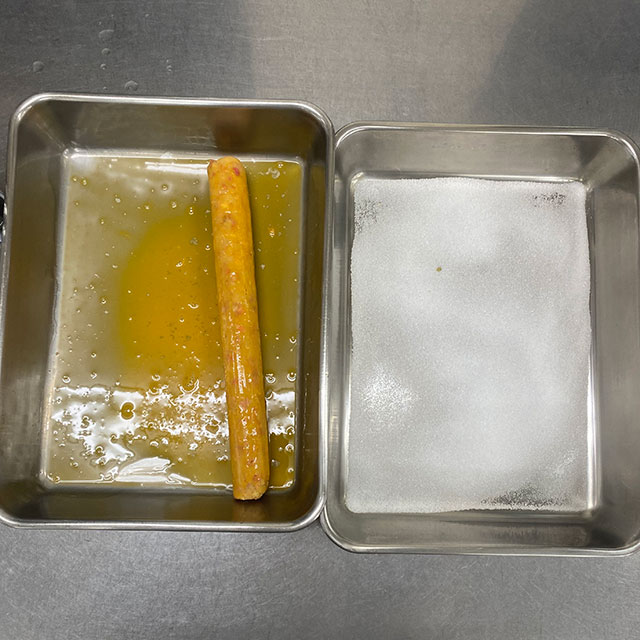 3. Cut the dough into 5mm wide, place it on a baking board with cooking paper, bake in an oven preheated to 160°C for about 15 minutes, and finish with a slight brown color.
Comment from high school student.
Tips!
*Immediately after baking, it is still soft, but it becomes hard when it cools, so be careful not to overcook it.
*Remove from the oven and cool as soon as it is baked so that it is not overcooked with residual heat.
According to the high school students who thought about the recipe, they give us following advice.
Apples have a lot of moisture, and there was a problem that they did not come together well with the dough as they were raw, and the taste of apples did not taste when cut into small pieces.
Therefore, in order to reduce moisture, it was dried and made easy to mix with the dough, and by drying, the taste was concentrated and delicious.
Apple chips can also be stored, so I think it can be used not only for cookies but also for various dishes.
When I actually sampled cookies made by high school students, the light brittle texture of the cookies is felt firmly, and it is a very delicious cookie.


Apple University is a virtual university where you can learn many things about apples in a fun way. ⇒ 
Click here to go to the site.